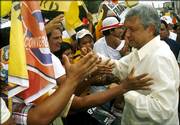 Mexico City — Mexico's leftist presidential candidate wants votes from nearly 5,000 polling places thrown out, a top aide said Saturday, amid signs that a partial recount won't change enough results to swing the election his way.
"Annulling (the results) from these polling places would change the balance of the election, and would mean that Andres Manuel Lopez Obrador would be the winner," said Claudia Sheinbaum, the leftist candidate's top campaign aide.
She said the request will be filed soon to the Federal Electoral Tribunal, which is overseeing the partial recount and must resolve all challenges to the July 2 elections by month's end.
Parties involved in the recount say elections officials have found extra ballots in some ballot boxes, and in other cases have failed to account for all blank ballots distributed to polling places. Sheinbaum said this suggests "a concerted operation" to fix the election for conservative Felipe Calderon, who led by less than 1 percent in the official but still uncertified vote count.
The polling places to be challenged by Lopez Obrador's Democratic Revolution Party were mainly ones where Calderon got more votes and would represent almost 4 percent of Mexico's voting places.
Copyright 2018 The Associated Press. All rights reserved. This material may not be published, broadcast, rewritten or redistributed. We strive to uphold our values for every story published.