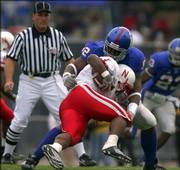 Kansas University defensive coordinator Bill Young is banking on the innocent - and praying for the injury gods to look away - if he wants the 2006 season to work out.
Seems like a lot to ask, but Young seems much more confident than your average leader of an inexperienced and depth-handicapped football defense.
"We were extremely proud of our defense last year," Young said, "but we could be better. We have a chance to be as good or better this year. That remains to be seen."
Considering the accomplishments of the '05 defense, that's saying a lot. The Jayhawks were third in the nation against the run (out of 119 Division I-A teams) and 11th overall. Defense kept KU in several close games, and was a key in victories over Missouri, Nebraska and Houston.
Eight of the 11 starters from '05 are gone, including six of the front seven and defensive backs Rodney Fowler and Theo Baines.
What's coming are athletic players coach Mark Mangino and his staff recruited. Young said they're ready to step up, but there's rawness to shake off along the way.
No injuries, please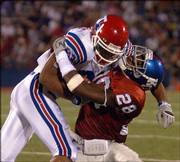 And there's the need for the injury bug to stay away.
"The whole key when you talk about depth is the injury factor," Young said. "You go back to Oklahoma when they won the national championship (in 2000), the guys that started the first game was the exact same guys that started the national-championship game.
"I know you go back to a lot of teams that had a lot of success, that's been the case. And that needs to happen to us."
Besides some sort of rain dance (a good health dance?), dings and aches are out of Young's hands. What he and the KU coaching staff can control, though, is what spring practices and the month of August will be consumed with - presenting a number of different situations, having the young players learn to live through them and teach them how to react correctly if it comes up in a game.
If that's successful, the inexperience factor won't be a huge deal.
"We know that there are going to be some roadblocks and we've got to overcome those kind of things," Young said. "Coaches try to foresee what problems we might have, make sure we give them those looks in practice and it won't be as traumatic to them in the ballgame."
Though they're not as battle-tested as much as he wished, Young does like the personnel he's going into Saturdays with. Cornerback Aqib Talib, safety Jerome Kemp, linemen James McClinton and Rodney Allen and linebacker Mike Rivera all have it in them to shine at the college level. All are projected to start for the new-look Jayhawk defense this fall.
Talib, for one, is getting heralded as perhaps KU's best defensive player this season. He picked up starting duties midway through last year as a freshman, and compiled 54 tackles, two interceptions and eight pass breakups.
"He's just an unbelievable athlete," Young said. "You don't see a guy his height with that speed and quickness. He has the height and size to be a safety, but he has the athleticism to be a corner."
Talib will be joined by Kemp, a hard-hitting strong safety, as well as a slew of newcomers.
That's not the gaping hole cynics point fingers at, though. That would be the noticeable void at linebacker.
With Nick Reid, Banks Floodman, Kevin Kane and Brandon Perkins all graduating, the '06 linebacker fleet will be stocked with players lacking a single starting assignment at the Division I-A level.
Sophomores Joe Mortensen and Rivera look to lead the bunch, with senior Eric Washington and sophomore James Holt not far behind. Rivera, the lone local talent on the depth chart, has been anticipated for some time since coming out of Shawnee Mission Northwest High.
"I like everything about Mike," Young said. "He has the potential to really be an exceptional player. For a guy his size, he really has excellent speed and quickness."
Allen oozes potential
Examples go on for what Young sees in his new crew. Rodney Allen, according to Young, could be phenomenal. Washington, Young says, has more speed than any linebacker in the Mangino era.
What does all the optimism add up to? A good season in Young's eyes - if everything goes right.
"We know what we're capable of," Young said. "We think we have a chance to be as good as we were a year ago."
Copyright 2017 The Lawrence Journal-World. All rights reserved. This material may not be published, broadcast, rewritten or redistributed. We strive to uphold our values for every story published.