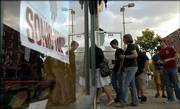 The Wakarusa Festival peddles 60,000 tickets, mostly to out-of-towners, who come to Lawrence in June to revel in live music.
But the rest of the year is not all that different. Music is an integral part of the city, and a big reason for this is the sheer number of venues that accommodate the sonic scene - many of them within walking distance of one another.
Rock, pop, blues, alt-country and folk all enjoy a permanent home. And there isn't any style of music that is too out of place to fit in somewhere.
Here are some of Lawrence's most reliable live-music locales:
Abe & Jake's Landing, 8 E. Sixth St., 841-5855, abejakes.com
This former barbed-wire factory has been converted into a cavernous, eye-popping venue, complete with fake storefront facades and eccentric sculptures. A large stage accommodates the headliners, and a smaller, more intimate bar hosts various jazz and folk combos. The view of the river ain't bad, either.
The Bottleneck, 737 N.H., 841-LIVE, bottlenecklive.com
Lawrence's most renowned joint for live music - especially all-ages shows - is constantly perfecting its formula. Not only does the bar book national and local bands multiple days of the week, but it features Smackdown trivia on Sundays and continues its 15-year partnership with Open Mic on Mondays.
Eighth Street Taproom, 801 N.H., 841-6918
This dual-level townie bar has drawn some quality talent to perform in its subterranean depths. It also features one of Lawrence's most impressive jukeboxes.
Fatso's, 1016 Mass., 865-4055
Never mind its name - this is not a spacious place. But the bar has proven its larger ambition lately by scheduling rock, hip-hop and jam bands about three times a week for its patrons to enjoy.
The Gaslight Tavern & Coffeehouse, 317 N. Second St., 856-4330, gaslighttavern.com
The resurrected Gaslight is the rare Lawrence music venue that sits on the north side of the Kansas River. These close-knit quarters showcase a weekly lineup of DJs and bands. And the outdoor beer garden is the perfect gathering place to watch some top-flight folk and jazz talent.
The Granada, 1020 Mass., 842-1390, thegranada.com
After a 60-year history as a movie theater, this converted venue still offers a theatrical environment. Although it recently ditched its swank martini bar and aquarium, the establishment's attention to providing a great stop for touring headliners has not dried up.
The Jazzhaus, 926 1/2 Mass., 749-3320, jazzhaus.com
The city's most veteran club long ago dropped its jazz format, but it sure didn't abandon the live music scene. Twenty-four years running, The Jazzhaus continues to showcase a respectably diverse array of talent. Those musician silhouettes in the window still watch over the place.
The Jackpot Saloon & Music Hall, 943 Mass., 832-1085, thejackpotsaloon.com
This recent addition opened across the street from The Replay Lounge - no surprise considering they share the same owner. And obviously that owner likes music because the rustic-themed Jackpot has quickly established a reputation as one of the most consistently fertile spots for live tunes that cater to the hipster crowd.
Liberty Hall, 642 Mass., 749-1972, libertyhall.net
It's not only downtown's best concert hall, but it also doubles as the city's only cinematic art house. Between the classic architecture and hip murals, this 1,050-seater is the definition of atmospheric.
The Replay Lounge, 946 Mass., 749-7676, replaylounge.com
It's where the cool kids go to see the latest underground/indie artists while coaxing quarters into their favorite pinball machines. A heated outdoor beer garden adds to the vibe. If you like to see bands up close and personal, then this is the place to be.
Signs of Life, 722 Mass., 830-8030, signsoflifegallery.com
The business throws a lot of different themes at its patrons: art gallery, coffee-and-smoothie shop, Christian bookstore, bohemian hangout. But also is a remarkably consistent location for live music. Its weekly schedule boasts folk concerts every Tuesday and Americana Music Academy Jams every Wednesday.
Slow Ride Roadhouse Bar & Grill, 1350 N. Third St., 749-2727
Dubbed by its owners as a "high-end biker bar," the Slow Ride Roadhouse also has a large outdoor patio for the smoking crowd. The music is also smoking, with attention paid to national and local blues acts.
Stu's Midtown Tavern, 925 Iowa, 749-1666, stusmidtowntavern.com
Lawrence's reigning blues outlet serves up authentic shuffles and jams three or four nights a week, despite being hampered by its strip-mall setting. Lawrence can be accused of catering to the college music crowd, but Stu's proves there are other worthy styles that deserve a local platform.
Copyright 2018 The Lawrence Journal-World. All rights reserved. This material may not be published, broadcast, rewritten or redistributed. We strive to uphold our values for every story published.