Houston — Mario Williams professes to not pay attention to the media hype surrounding him since the Houston Texans made him the first pick in the draft.
Newspaper articles? "I don't read the newspaper," he said.
Television and radio reports? "I don't watch TV, and I don't listen to the radio."
But despite his aversion to virtually all media, the defensive end knows that all eyes will be on him tonight in the Texans first preseason game against the Kansas City Chiefs.
But that doesn't mean he cares.
"I'm not here to focus on that," he said. "I'm not out there trying to be God. I'm just out there to be Mario and help the team out."
That no-nonsense attitude is one reason the Texans love the 6-foot-6, 293-pound rookie. That and his ferocity on the field and uncanny knack for getting into the backfield.
Coach Gary Kubiak has worked to help Williams avoid being overwhelmed by the expectations of being the first player chosen in the draft.
"I told him, 'Hey Mario, you just do your job. You are going to make everybody on this team better if you do your job well,'" Kubiak said.
While Williams begins his NFL career, Chiefs tackle Kyle Turley will try to revive his. The All-Pro hasn't appeared in a game since 2003 because of back problems but will return to the field on Saturday.
He was expected to contribute at right tackle but was propelled into the starting left tackle slot when 11-time Pro Bowler Willie Roaf unexpectedly retired just before camp.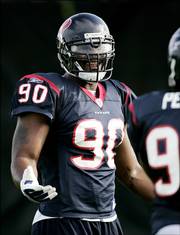 Houston also will test out a new offensive line - with former Green Bay center Mike Flanagan - that should help David Carr's production.
The pressure is on Carr to perform this season after the Texans exercised an $8 million contract option to keep him with the team for three more seasons in February.
Saturday will be the unveiling of Kubiak's new, aggressive offense. Houston will also get a first look at how their big, strong receiving duo of Andre Johnson and offseason acquisition Eric Moulds fares on the field after becoming inseparable off of it.
Johnson and Moulds would be a good test for Kansas City's revamped secondary, which will feature rookie safeties Bernard Pollard and Jarrad Page. Also new will be five-time Pro Bowl cornerback Ty Law, who joined the Chiefs in an effort to improve the team's pass defense, which ranked 30th last season.
While trying to upgrade the defense, Edwards is also working to change the mind-set the Chiefs have had for the past five years under Dick Vermeil.
"You may not make five yards on the first run. You might only make three," he said. "You've got to keep hammering, and you've got to lose that mentality where all of a sudden a pass will bail us out. It didn't bail us out today on third-and-eight (in practice). The offense stopped the clock and we had to punt. We don't want to do that."
While the starters on both teams aren't expected to play past the first quarter, several will miss the game altogether because of injuries.
Houston running back Domanick Davis, who is recovering from knee surgery, is out, as is Chiefs recent addition Michael Bennett (hamstring). Veteran Antowain Smith, who the Texans picked up in the offseason, will start for Houston.
Most of Kansas City's injury problems are at quarterback - starter Trent Green, Canadian Football League star Casey Printers and free-agent Jeff Smoker, who was signed on Thursday, are the only healthy players. Damon Huard sprained a foot earlier this week, and third-round draft pick Brodie Croyle is recovering from a shoulder injury.
Copyright 2018 The Associated Press. All rights reserved. This material may not be published, broadcast, rewritten or redistributed. We strive to uphold our values for every story published.