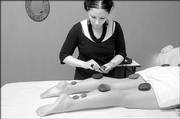 When Kansas University junior Hadley Galbraith gets stressed, her jaw tightens, her neck stiffens and her shoulders lock up with tension.
When the pain becomes too much, Galbraith knows it's time for a massage.
"It makes me feel like I'm starting over," she says. She adds that getting a massage gives her a sense of balance and "new leverage to get everything done for school."
Like most college students, Galbraith feels that the stress from school and other impending responsibilities takes a physical toll on her body.
Incoming freshmen are especially prone to stress. Between moving away from home for the first time, making new friends and juggling a slew of difficult classes, new students may begin to feel rundown. But when their symptoms don't belie a cold, the flu or even the dreaded mumps, where do they turn for treatment?
In the realm of complementary medicine, Lawrence offers a wide array of options to combat what is perhaps the most pervasive of college illnesses: stress. From tried-and-true methods like massage to experimental new-age treatments like reflexology and acupuncture, the town offers a treatment for every walking stiff on campus.
Putting your best foot forward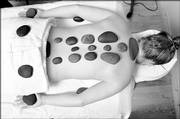 One of the oldest and strangest of massage techniques is reflexology. It comes from an ancient Chinese tradition of rubbing specific areas of the hands and feet that correspond to areas of the body, like the heart, liver and gastrointestinal tract. Kristii Adrian, owner of Bodyworks Downtown, 13 E. Eighth St., says that reflexology, as strange as it sounds, really works.
"Just by having your feet worked, in essence you are having your entire body be worked on," Adrian said.
Reflexology also can reach those places in your body that are otherwise only reached with invasive surgery.
"It's much easier and more comfortable having your foot worked on than having, say, your liver be rubbed," Adrian said.
Even those who aren't looking to relieve a liver infection or indigestion problem can benefit from reflexology.
"It will definitely affect your stress level," Adrian said. "Any massage should relieve your tension. If it's been done correctly, that is ultimately the point."
Ear candling
If the idea of sticking a lit candle into your inner ear never occurred to you as relaxing before, you may want to think again. The Salon di Marco & Day Spa, 733 Mass., provides a service called "ear candling" that is as relaxing as it is scary-sounding.
Spa coordinator Dianne Schroeder says that ear candling is an ancient Egyptian practice that is not at all painful.
The entire procedure takes 15 minutes for each ear. First, the spa therapist places a hollow, footlong, cone-shaped candle made from beeswax-coated muslin onto the ear. Then, the tip of the candle is lit, and the wick burns down until it's 6 inches above the ear. It's then blown out, and what's left in the cone is the wax and residue that was once lodged inside the ear canal. The trick, Schroeder says, is in the gentle vacuum the candle creates.
"As it burns from the top, it's creating suction through the hollowness of the cone," she said.
The result? Clean ears and a deep feeling of relaxation.
Massage
For those looking for something a little more conventional that will target problem areas like the neck, back and shoulders, a massage is sure to hit the spot.
While Adrian says that a traditional Swedish massage, which is known for its light, long strokes, is most popular with students, there are other options for more adventurous types.
Bodyworks Downtown offers a hot stone massage which, Adrian says, is "just like what it sounds like."
During the massage, heated basalt stones (that's spa-speak for smooth lava rocks) are placed on pressure points along the entire body. Some are large to cover the back, and some are tiny to fit between toes. The stones work to release tension and toxins from tense muscles and provide deep, soothing relaxation.
Adrian says the hot stones offer a more powerful after-effect than regular massages.
"It can be pretty intense. If people haven't had a hot stone treatment before, the flood of toxins that could possibly be released is a very cleansing experience," she said. "But for some that have been on a lot of medication or have been putting a lot of things into the body that the body didn't want, it can leave you a little woozy afterwards."
For a treatment that focuses more on deep tissues, the Salon Di Marco offers the Hawaiian Lomi Lomi massage, which means "the dance of the massage" in Hawaiian. Think shiatsu, only less traumatic.
The therapist often uses elbows, forearms and knuckles to, as Schroeder says, "get in deep within the energy meridians." These meridians are lines therapists use to chart the flow of energy along the body. If any line is blocked, Schroeder says it can reduce energy and make you feel rundown.
She adds that the Lomi Lomi massage "helps to relax the nervous system, increases circulation and really gives you a sense of well-being."
The massage also targets one of the most tense areas for stressed students.
"If you feel like you have some shoulder issues, like there's just some pent-up energy in there, it will help release that," Schroeder said.
Acupuncture
For those looking for a more adventurous form of complementary medicine, acupuncture is another option. In this ancient Chinese treatment, tiny needles are inserted into specific points along the meridians of the body to relieve energy blockages, stimulate circulation and enhance relaxation.
If the thought of needles makes your skin crawl, then relax. According to Marta Schwarz, owner of WhiteStone Wellness Center, 2512 W. Sixth St., acupuncture needles are "no bigger than the width of a hair."
She adds that though the needles are tiny, their benefits are bigger than you might expect.
"Acupuncture can be used to help anything you can think of. It helps by unblocking energy and helping it flow into the body," Schwarz said. "It also helps to relieve acute and chronic pains."
Other benefits of acupuncture include stress relief, increased energy and an increased feeling of well-being.
Cutting costs on complementary medicine
Many local complementary medicine practitioners, like Bodyworks Downtown, offer students a discount of about 10 percent. That adds up when massages cost from $35 to $90 a pop.
If the reduced spa price still doesn't cut it, Pinnacle Career Institute, 1601 W. 23rd St., just might. Its massage therapy students offer one-hour, full-body, deep-tissue massages for $25. Though the students aren't fully certified yet, they're knowledgeable, flexible about appointments and relatively inexpensive.
Also, if you're not willing to strip down all the way for a massage, at Bodyworks Downtown you can get a fully clothed, seated chair massage for $1 per minute. These massages focus on the neck and upper back to immediately relieve tension.
Just an extra
Though Galbraith says getting massages is a worth the cost during extra-stressful times, she knows they aren't always practical or necessary.
"There are other ways to take care of that stuff," she said. "A massage doesn't last forever. If you exercise regularly or you do yoga at the gym, which is free, you'll feel better."
Copyright 2018 The Lawrence Journal-World. All rights reserved. This material may not be published, broadcast, rewritten or redistributed. We strive to uphold our values for every story published.