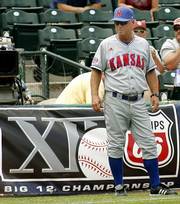 Ritch Price has elevated the Kansas University baseball program where he wants it to be.
Now the trick is keeping it there.
"I think the biggest challenge will be maintaining the success level that we had at the end of the season," the KU coach said. "At the same time, I think that's what makes the game really fun."
The Jayhawks did that at the end of the 2006 campaign, winning four consecutive games in May to take their first Big 12 tournament championship. That earned them a spot in the NCAA tournament for the first time since 1994.
Kansas defeated Hawaii before ending its season with a pair of losses, including one to eventual national champion Oregon State at the Corvallis (Ore.) regional. KU finished 43-25, earning the second-most victories in school history.
"Our goal has to be to try to maintain the level that we've gotten to," Price said, "and see if we can continue to be a top-25 team."
The task won't be easy, especially with the Jayhawks' lack of depth on the mound in 2007.
Kansas loses all three of its weekend starters from a staff that was ranked eighth out of 10 teams in the Big 12.
But that's not even the biggest blow. Price will also have to adjust without closer Don Czyz, named the Collegiate Baseball Writers' Stopper of the Year after posting an NCAA-leading 19 saves.
The Overland Park native was 6-0 with a 1.56 ERA, earning Louisville Slugger first-team All-American honors.
"For me personally, the biggest challenge will be replacing Don Czyz," Price said. "I don't even know if that can be done."
Kodiak Quick and Ricky Fairchild also graduated, and junior Sean Land and KU signee Aaron Breit both signed pro contracts, leaving Price with a blank cupboard for his starting rotation spots.
One place figures to go to sophomore Nick Czyz - Don's younger brother.
"He was very solid the last month of the season as a mid-week starter for us, and then was absolutely phenomenal for us in the Big 12 championship game against Nebraska," Price said. "We're hoping that his development can continue."
Sophomore Andy Marks, used in a relief role last season, could step into a starting spot, as could a pair of incoming transfers.
Andres Esquibel comes from Palomar (Calif.) Junior College after posting an 8-4 record and 2.56 ERA, and Hiarali Garcia enters after spending two years at Eastern Oklahoma State College.
Price said he also expects paperwork to come through on a pair of Division I transfers that could help the Jayhawks' staff this season.
Reliever Paul Smyth should step into the closer's role after being the setup man for Czyz last year.
Price has reason to be optimistic about his offense despite losing four key players.
Though Ritchie Price, Matt Baty, Jared Schweitzer and Gus Milner are all gone, KU does return a good chunk of pop from a team that was second in the Big 12 in home runs.
"Those are four of the best players in the Big 12 Conference," Price said. "At the same time, we have six outstanding returning players. And we've got an outstanding recruiting class."
Price is especially looking for big things from his junior class, which includes John Allman, Erik Morrison and Ryne Price.
Allman was an All-Big 12 second-teamer last season, and Morrison led the team with 14 dingers.
Kansas will also benefit from its third Price player, as Free State High product and youngest son Robby will take over his brother Ritchie's spot at short.
Copyright 2018 The Lawrence Journal-World. All rights reserved. This material may not be published, broadcast, rewritten or redistributed. We strive to uphold our values for every story published.