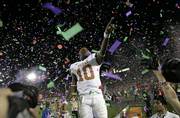 The representation is unmatched - further giving credence to the theory the Big 12 Conference is college football's most powerful league.
The proof is in the eight BCS national-title games that have attempted to give college football an undisputed champion since 1999.
Five of those eight games have featured a Big 12 team, including four in the last five years - Nebraska, Oklahoma (twice) and Texas. The next closest is three visits, by the ACC (Florida State's three straight trips from 1999-2001) and the Big East (Virginia Tech in 2000 and Miami in '02 and '03).
Can the cameos continue for the Big 12? And who could it be this year?
Texas and Oklahoma continue to be the conference's best bet. Both have many reasons for forecasters to slide their chips on them - Texas with a monster team up and down, Oklahoma with super-back Adrian Peterson.
But both teams come with baggage of doubt, something Texas may not have had on its way to last year's national title.
The Longhorns, for one, don't have all-world quarterback Vince Young anymore, and that means the effective playbook built around his strengths will have to be altered for Colt McCoy. Oklahoma, meanwhile, needs a new offensive line to protect still-learning quarterback Rhett Bomar.
Oklahoma and Texas will be thrown into the national-title mix, though, along with Ohio State, Notre Dame, USC, Florida, Louisville and others. Considering an unbeaten season is the closest thing to an automatic berth in the title game (and even that's no given), UT's games against Ohio State and at Nebraska this season loom large. Likewise, Oklahoma's tilts at Oregon and at Texas A&M; seem critical.
Of course, the game of the year in the Big 12 is the same as most years recently: when Texas and Oklahoma play each other. This year's showdown is Oct. 7 in Dallas, and a national-title berth - the Big 12's sixth in nine years - could be the dangling carrot that day.
Here's a look at the Big 12 by divisions:
North
Colorado
New coach Dan Hawkins has been welcomed into Boulder with open arms. A 53-10 record at his last stop, Boise State, certainly helps.
Regardless, Hawkins has to find personnel to plug into his new offense at CU, and that includes a quarterback battle with no clear-cut favorite. That's not promising. CU's proven defense will have a lot of responsibility early on.
Iowa State
The Cyclones' offensive skill players, including quarterback Bret Meyer, receiver Todd Blythe and tailback Stevie Hicks, will make ISU exciting. But two red flags are waving - a Big 12 South rotation that includes Texas, Texas Tech and Oklahoma on the schedule, and a defense that has a lot of talent to replace.
Kansas State
New coach Ron Prince is inheriting huge expectations and a team coming off two straight losing seasons.
The good news is abundant experience: A majority of starters return on offense and defense, and quarterback Dylan Meier is back after shoulder surgery kept him out of the '05 season. But it might not be enough to send K-State bowling again - certainly not any of the big bowls KSU shot for in the 1990s.
Missouri
The Tigers have the nation's best tight-end tandem in Martin Rucker and Chase Coffman, two NFL-bound playmakers. But questions are bound to pop up when a four-year starter at quarterback leaves, and Chase Daniel's responsibility is to answer them. He's about the only new piece of Mizzou's offensive puzzle, making a run at the Big 12 North title seem possible.
Nebraska
On paper, the Huskers are the most talented team in the North, and the "Blackshirts" defense could be the big reason why.
With a solid linebacker crew and great defensive ends, the Huskers front seven could be the Big 12's best. In addition, Zac Taylor leads an offense with more potential than ever under third-year coach Bill Callahan.
South
Baylor
Bears coach Guy Morriss has gone bold with his offense - scrapping the traditional two-back formation he's relied on in favor of a spread offense inspired mildly by Texas Tech.
A quick offensive adjustment could be key to Baylor's bowl chances: The Bears' defense loses seven starters, and it wasn't exactly smothering to begin with.
Oklahoma
The Sooners hiccuped - for their standards - and lost four games in 2005. Expect that total to go down. Running back Adrian Peterson is healthy and could win the Heisman Trophy. Rhett Bomar is a year wiser at quarterback, and the defense remains strong, all and all making Oklahoma a national-title contender.
Oklahoma State
The Cowboys slipped and are forced to rebuild, a task that's inevitably forced to be drawn out in the brutal Big 12 South. Quarterback Bobby Reid has a lot to prove after a bumpy freshman campaign. Limiting turnovers is the key for OSU, after 12 takeaways and 30 giveaways followed a bowl-bound 2004 season in which the Cowboys were +17 in turnover margin. Obviously, it matters.
Texas
A Vince Young-less Longhorns team automatically will look different, and UT's quarterback will have no experience when he grabs the reins.
Texas, though, has lots of talent everywhere else, from a great running-back-by-committee to a huge offensive line to an overall defense that returns seven starters. No Vinsanity, but this Texas team still is loaded.
Texas A&M;
The Aggies were a disappointment last season, with the defense allowing opponents to do pretty much whatever they wanted. A&M; was brutal on D last year, and only five starters are back. Offensively, sophomore quarterback Stephen McGee is highly touted, perhaps keeping Reggie McNeal's legacy as a real team leader going. He'll need to do a lot to save Texas A&M; this year.
Texas Tech
Death, taxes and Texas Tech passing the dimples off the football. Expect it again, this time with a quarterback who's not a senior. Graham Harrell or Chris Todd will have fantastic targets to throw to, including Jarrett Hicks, Robert Johnson and Joel Filani, so Tech will score points again. The key is defense, which had good statistics in 2005 but loses six key starters. Tech will be good enough to contend for a Big 12 title.
Copyright 2018 The Lawrence Journal-World. All rights reserved. This material may not be published, broadcast, rewritten or redistributed. We strive to uphold our values for every story published.