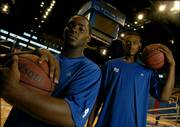 Kansas University men's basketball coach Bill Self continued his stellar recruiting ways last school year, adding two McDonald's All-Americans to the roster.
They are Sherron Collins, a 5-foot-11 point guard out of Chicago's Crane High, and Darrell Arthur, a 6-9 forward out of Dallas' South Oak Cliff High.
The two are joined Brady Morningstar, 6-4 freshman out of Free State High and most recently New Hampton (N.H.) Prep School, and 6-0 sophomore walk-on Brennan Bechard out of Lawrence High and most recently Barton County Community College.
Collins, who averaged 26 points per game his senior season and wowed the fans by tossing the ball off the backboard and dunking it to end the McDonald's game in March, signed with Kansas in November, choosing the Jayhawks over Illinois, Georgia Tech and others.
Major impact
"Sherron will have major impact here," Self said. "He reminds me a lot of Dee (Brown, Illinois). A leader, tough, and likes it the most when the lights are the brightest.
"He's a point guard who will shoot. It'll be kind of exciting to have three guys out there who all have point-guard skills that can play different spots," he added of Collins, Mario Chalmers and Russell Robinson.
Collins believes he can be a contributor.
"I think I'll be able to come in as a freshman and break right into (the rotation)," Collins said. "Just because of my competitiveness and just my ability to do what I can do, I think I'll be able to handle that.
"I'm excited. I can't wait to play in front of the crowd. The atmosphere is just wonderful down there, so the crowd is going to love me."
Arthur, who waited until the late signing period, selected KU over Baylor, LSU and Texas. He averaged 18 points and 10 rebounds his senior campaign.
"'Shady' was heavily recruited by schools across the country for the past two to three years," Self said. "His decision to pick Kansas after such an intense recruiting period with many other good choices definitely will impact our program in an immediate way.
"Darrell's athletic ability and shot-blocking should make him a presence defensively. His versatility will definitely be a bonus and will allow us to play with more interchangeable parts."
Morningstar maturing
Morningstar, who will turn 20 in January, chose KU over TCU, West Virginia, Tennessee, Northern Illinois and others.
"He is unselfish, makes the game easier for other guys. The ball doesn't have to be in his hands a majority of possessions," Self said of the combo guard.
"He is a complementary wing guy, athletic, a good shooter," Self noted. "It's a matter of time strength-wise that will allow him to be a good player on this level."
Self said he felt Morningstar would contribute.
"We didn't recruit him to just come in and be on the team. We recruited him to help us win games," the coach said.
Morningstar is the son of former KU player Roger Morningstar.
"We really like Brady's mom," Self said with a laugh. "I've known Roger from years back, knew of him back when he was the Converse (shoe) rep.
"I think it's great, a bonus," he said about signing a youngster who grew up loving the Jayhawks. I know how much it means to Brady and his family, how much it means to Brady to wear a Kansas jersey."
Morningstar averaged 19 points and five boards his senior season at FSHS. He averaged more than 22 ppg game at New Hampton.
"It's been my dream since I was 7 when we moved to Lawrence (from Massachusetts) and I knew I lived in the same town as the Jayhawks," he said.
Bechard averaged 2.6 ppg off the bench for Barton County. He averaged 12 ppg his senior year at Lawrence High.
"I've grown up my whole life being a huge KU fan. It's a dream come true for me," said Bechard, son of Ray Bechard, KU's volleyball coach.
Bechard, who logged 8.9 minutes a game while coming off the bench last season at BCCC, had 25 assists against 20 turnovers and hit 23 of 57 shots overall (40.4 percent), 18 of 44 threes (40.9 percent) and 11 of 14 free throws.
"He has as pure a shot as any kid I've coached. He can catch and shoot it. He's a great three-point shooter," Lawrence High coach Chris Davis said.
Copyright 2018 The Lawrence Journal-World. All rights reserved. This material may not be published, broadcast, rewritten or redistributed. We strive to uphold our values for every story published.