LUBBOCK, TEX. — Graham Harrell drops back quickly, wheels to his left and zips a screen pass to an inside receiver.
Seconds later, Chris Todd lines up and fires the exact same pass with equal sharpness.
Harrell then snaps a quick screen the other way. Todd does too.
Harrell throws a sharp sideline pass. Todd does too.
The carbon copies continue for nearly 20 plays, with every ball caught on target until Harrell's 40-yard floater bounces off a receiver's hands.
Although this was only a routine passing exercise at one of Texas Tech's first fall practices, their dueling spirals provided a glimpse into the tight competition between these prized underclassmen trying to become the triggerman of the nation's most prolific passing offense.
Whoever gets the job will be the first nationally coveted recruit to lead the dizzying air show that is the Red Raiders' offense - a frightening prospect for defenses that have been getting shredded by Tech passers without such a pedigree.
Coach Mike Leach plans to pick the starter within the next two weeks. He says the friendly battle is too close to call right now. The Red Raiders open the season Sept. 2 at home against SMU.
"I think they've both looked really good," he said. "It all comes down to who runs the unit better."
The youngsters seem plenty qualified.
Both are the sons of high school football coaches. Both were reared in wide-open passing offenses similar to Tech's. And both had their pick of major colleges after shattering state high school records.
They're even both mobile and 6-foot-3.
The perpetually grinning Harrell, a third-year sophomore, is widely considered the favorite, in part because he's spent two years in the system.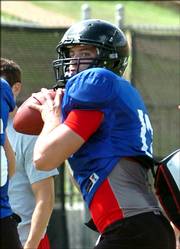 He came to Lubbock from Ennis, just south of Dallas, where he went 41-3 as a starter. He graduated as the state's leading career passer with 12,532 yards and 167 touchdowns. He threw for 4,825 yards and 67 TDs his senior season.
Todd, a redshirt freshman, was imported from Kentucky.
In three seasons as a starter at Elizabethtown, Ky., he threw for 9,777 yards and 108 touchdowns. He's second in most of the state's career passing statistics behind former NFL first-round pick Tim Couch, whom Leach coached at Kentucky.
Around the Red Raiders, nobody is picking sides. To hear the receivers talk, it may not even matter all that much.
"You really can't tell them apart when you're running your routes and they're throwing the ball; they throw it on time - perfect," said receiver Danny Amendola, who said he was startled by Todd's accuracy recently when he turned around on a 20-yard pattern and pretty much found the ball in his hands.
"Every day they both come in and throw balls and you're like, 'Wow, how'd they get that in there?'" receiver Joel Filani said.
There are some key differences.
With an extra year in a system that regularly floods the field with five receivers zipping every which way, Harrell is ahead when it comes to making quick reads and adjustments.
Todd's still learning, but all agree he has the stronger arm.
"He can throw it a long way, and he loves to do that," Harrell said. "I rely on timing and accuracy, and the mental part of the game."
Both players are easygoing - Harrell always appears to be on the verge of a giggle - and said they aren't feeling any pressure from the competition.
"You can't worry about nerves or messing up too much," Harrell said. "It's a fun game, so I want to have a good time while I'm out there."
Likewise, neither player is feeling stress about the next step when the competition's over, when the winner must face the expectation of leading the nation in passing, something the last four predecessors have done.
"When you come to Texas Tech, that's what you think about; you think you're going to come and throw the ball a lot and get a bunch of yards," Todd said.
Cody Hodges led NCAA Division I passers last season with 4,238 yards and 31 touchdowns. He was a fifth-year senior in his first and only season as the starter, just like Sonny Cumbie (4,742 yards, 32 TDs in 2004) and B.J. Symons, who had an NCAA-record 5,833 yards and 52 TDs in 2003.
Kliff Kingsbury began the run of Tech quarterbacks topping the stat chart when he threw for 5,017 yards and 45 TDs in 2002, the last of his three years as a starter in which he set more than a dozen NCAA records.
Kingsbury's long run of success is the model for both youngsters. And for Tech fans, who appreciated the one-year wonders but are understandably excited about what Harrell and/or Todd could do as they grow into the job.
"I'd have to say they're both as good as I've had for as young as they are," said Leach, who doesn't believe much in the two-quarterback system once he has settled on a starter. "They're both good now, but I think down the road they'll both be even better."
Leach isn't concerned about their youth. He pointed out that Kingsbury started as a sophomore and that Couch started as a redshirt freshman when Leach was his coordinator at Kentucky.
"The more reps you can get dropping back and throwing, the more comfortable you'll be doing that, and both these guys have done it a million times in high school," said co-offensive coordinator Sonny Dykes. "They look like guys who have been in the program three or four years."
Copyright 2018 The Associated Press. All rights reserved. This material may not be published, broadcast, rewritten or redistributed. We strive to uphold our values for every story published.