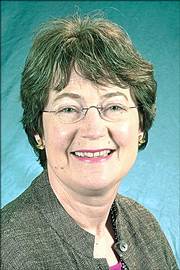 Gail Agrawal may be the first female dean of Kansas University's School of Law, but that's not a big point to her.
"I think I have a lot to offer as a dean," she said. "I don't think any of that has anything to do with the fact that I happen to be a female."
Agrawal in July took the dean's position. She replaces Steve McAllister, who resigned and returned to teaching last year.
Agrawal, a New Orleans native, comes to KU from Chapel Hill, N.C., where she served as interim dean and professor at the University of North Carolina School of Law. Agrawal's husband, Naurang Agrawal, a physician, will join KU's medical school faculty.
Agrawal describes her leadership style as collaborative. Setting a vision for a law school isn't one person's job, she said, and she'll be working with faculty and alumni to help form a vision for where the school should be going.
The law school came in at 70th in the nation on the latest rankings released by U.S. News & World Report magazine.
Agrawal said she wouldn't focus on changing that number.
"I'm less concerned with saying my goal is to get the ranking from 70 to 50," she said. "I intend to focus on the substance and hope that the rankings follow."
Agrawal said substance meant looking at whether the school was offering excellent career services, working hard to attract a wide spectrum of students and offering the right mix of courses. She said those areas targeted for improvement wouldn't be established until she has time to speak with faculty and staff about the school's needs.
Agrawal started at UNC in 1997. She served as associate dean for academic affairs, senior associate dean and, most recently, interim dean.
She is a graduate of the University of New Orleans. Agrawal received a master's degree from Tulane School of Public Health and Tropical Medicine and a law degree from the Tulane School of Law.
Following law school, she worked as a law clerk to Senior Judge John Minor Wisdom on the United States Court of Appeals for the Fifth Circuit before clerking for Supreme Court Justice Sandra Day O'Connor.
In her time at UNC, Agrawal said she was pleased with her work with curriculum, efforts to revise the program for first-year students and revamping a writing program that gives students hands-on, skills-based training.
Sylvia Novinsky, associate dean for student affairs at UNC, said Agrawal worked long hours and was always thinking about her work and ways to make projects work for the betterment of the school.
"She will put 200 percent of herself toward making Kansas a better place and a better law school," Novinsky said.
Michael Davis, KU law professor and interim dean before Agrawal's arrival, said Agrawal had the right academic and professional background for the job.
Agrawal was chosen over candidates from Cornell University, Villanova University and Kansas Board of Regents President and chief executive officer Reginald Robinson for the position.
"She was just sort of the general perceived front-runner of a very good field," Davis said. "She had an excellent background and personal skills."
KU's law school had an enrollment of about 500 students last fall, representing less than 2 percent of KU's total enrollment.
Before her arrival, Agrawal began setting up individual meetings with every member of the school's faculty and senior staff. The meetings will involve her listening to the various perspectives of the school and where it should be heading.
"That will help me kind of set an agenda," she said.
Agrawal said she would like the school to examine its first-year curriculum and foster more interdisciplinary collaborations.
She'll also be looking at the school's strengths and areas that could be boosted by the hiring of new faculty. And, she said, she'll spend some of her first year meeting with alumni.
"I'll be out on a sort of 'meet the dean' tour," she said.
Agrawal views herself as a change agent, and she said her sense is that the faculty is anxious to shake things up.
"I don't have much interest in being a caretaker," she said. "I like to make a difference."
Copyright 2018 The Lawrence Journal-World. All rights reserved. This material may not be published, broadcast, rewritten or redistributed. We strive to uphold our values for every story published.