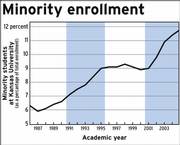 Kansas University leaders have a simple goal when it comes to attracting minority students to the university: Attract more every year.
"We feel very strongly that increasing the diversity of our campus really enhances the academic experience of the university," said Lisa Kress, director of admissions and scholarships for KU.
Thus far, KU leaders have been successful in attracting more minority students to the KU campus. Minority enrollment for the fall semester stood at 11.8 percent of total enrollment. That's up from 9.7 percent in 2001. The level is even higher - 12.3 percent - for the freshman class.
"We feel like everybody benefits from this," Kress said. "You get to hear different points of views and be exposed to new experiences. That is really what going to college is all about.
"Diversity allows you to gain knowledge not just in the classroom but also in who you meet."
Kress said making sure minority students have all the information they need is one of the more important aspects in KU's recruiting efforts.
"One of the hurdles that we have to deal with is sometimes we're talking to a lot of first-generation students," Kress said. "It can be a confusing process, especially if you're the first one in your family to go through it."
Kress said the university starts sending information to students as early as sixth grade to help them understand the importance of keeping their grades in good standing and about the need to take the right type of classes to prepare for college.
She said the university strongly encourages all students to really begin their search for a university in earnest by their sophomore year in high school. Kress said waiting until the senior or junior year can be too late because many schools have important early deadlines.
"If you wait until the last minute, you could miss out on some opportunities," Kress said.
Rising tuition also is an issue that KU recruiters try to address with minority students. Kress said the office stresses the importance of applying for financial aid and grant opportunities.
She said thus far, recently enacted tuition increases had not hurt minority enrollment numbers.
Kress said another important recruiting tool is a program called Hawk Link. The program, run by the Office of Multicultural Affairs, provides first-year minority students with a road map of how to access university services ranging from the tutoring center to various student clubs and organizations.
"We feel like it is a great networking tool," said Juan Izaguirre, assistant director of multicultural affairs. "Students really learn to meet a lot of people who can help them through their entire college career."
The program - started in 1999 - serves about 300 students per year.
Copyright 2018 The Lawrence Journal-World. All rights reserved. This material may not be published, broadcast, rewritten or redistributed. We strive to uphold our values for every story published.