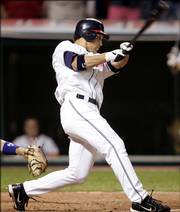 Cleveland — Grady Sizemore was confident as he strode to the plate in the bottom of the ninth inning.
Sizemore sliced a bases-loaded triple and the Cleveland Indians became the latest team to rally against Ambiorix Burgos, beating the Kansas City Royals, 4-3, Friday night.
"I knew I'd had success against him, but I was just thinking about how I was going to attack the at-bat," Sizemore said.
The big hit made Sizemore 5-for-9 with two homers and six RBIs in his career against the Royals righty.
"I knew I hit it well," said Sizemore, hitting .354 over his last 25 games. "I was just hoping to get all three of them home."
The Indians won their third in a row and stopped Kansas City's three-game winning streak. Cleveland also beat the Royals for the eighth straight time at Jacobs Field.
"Everybody did what they needed to do to make that comeback possible," manager Eric Wedge said after the Indians improved to 2-53 this year when trailing after eight innings. The other late comeback win was 6-4 over Kansas City on May 16.
Burgos (2-5), who now leads the AL with 11 blown saves, relieved in the ninth with a 3-1 lead. But Ryan Garko and Ramon Vazquez each singled with one out and pinch-hitter Aaron Boone fouled off a pair of full-count pitches before drawing a walk.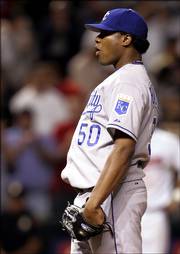 "I only got one hit, but it was a big one and I'm happy to contribute," said Vazquez, who was recalled from Triple-A Buffalo before the game when Cleveland designated right-hander Guillermo Mota for assignment.
Sizemore hit an opposite-field liner that bounced off the wall, and when the carom got past left fielder David DeJesus, the winning run scored.
"It sure is the hard way to do it," Sizemore said of his first game-ending triple.
Of sliding into third base when he could have pulled up at second with a game-winning double, the All-Star outfielder grinned and said, "It was the adrenaline. I was in a hurry to celebrate with my team."
Royals manager Buddy Bell said he will remain patient with the 22-year-old Burgos.
"It's a learning process for him," said Bell. "He needs to understand what is a good pitch for him and what is not."
Fernando Cabrera (2-2) pitched a perfect ninth for the win.
The Indians' rally deprived Adam Bernero of his first win as a starter in more than three years. The Royals dropped to 15-41 on the road this season.
Copyright 2018 The Associated Press. All rights reserved. This material may not be published, broadcast, rewritten or redistributed. We strive to uphold our values for every story published.