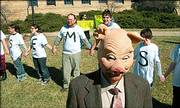 After more than a year of trying to reach a contract agreement, Kansas University and its graduate teaching assistants continue to battle.
After failing to come to an agreement, both sides now are heading into fact-finding with a neutral arbitrator.
In their last offer, KU proposed raising the minimum salary from $10,000 to $11,000 next year and to $12,000 by the 2008-09 school year.
"GTAs are important to the academic teaching mission of the university," KU spokeswoman Lynn Bretz said. "We are training the next generation of professors."
But the students rejected the proposal, saying KU negotiators had budged little and shown little willingness to actually work with the student negotiators. The university's proposal for wages also came in lower than the students pressed for.
"We think the university's numbers are a little low," said Kyle Waugh, co-president of the Graduate Teaching Assistants Coalition.
According to information provided by KU, during 2004-'05, the minimum GTA salary was $10,000 but the average salary was $12,941. That is up from an average salary of $9,899.
Another key issue, according to Waugh, is communication among GTAC members. The union isn't allowed to use university facilities or talk about union issues on campus, Waugh said. Union leaders would particularly like to speak during student orientations for new GTAs held in August and January.
KU doesn't think it has a responsibility to help organize a union, Bretz said. A list of GTAs and their Lawrence mailing addresses are provided, she said.
Other issues on the table are how pay raises are distributed, length of time GTAs can maintain their positions while they're students and how long they can keep the jobs, Waugh said.
Negotiations have been ongoing since May 2005.
GTAs organized in 1995 and is affiliated with the Kansas Association of Public Employees. The contract, or memorandum of agreement, covers three years. GTAs are working under terms of the old contract until a new one is agreed to and approved by the Kansas Board of Regents.
According to KU, there were 912 GTAs during the spring semester, and 112 of them were dues-paying members of KAPE. Not all graduate students are teaching assistants. There were more than 5,200 graduate students on the Lawrence campus in the spring.
Copyright 2018 The Lawrence Journal-World. All rights reserved. This material may not be published, broadcast, rewritten or redistributed. We strive to uphold our values for every story published.