Nicodemus — It wasn't going as Veryl Switzer had hoped.
The temperature had soared to 105 degrees, and the sun was scorching the siltlike dirt in the 40-acre field where he hoped to eventually plant milo. The sprayer he was pulling behind his tractor was leaking anhydrous ammonia, and he was having to stop his tractor every few rounds of the field to check the malfunctioning equipment.
Switzer, 73, is one of a handful of farmers left in this all-black Graham County community, which was designated a National Historic Site in November 1996. He lives in Manhattan during the week and comes to his childhood home on weekends to tend to the crops on his 840-acre farm. Stays are longer during harvest time.
"Five or six families farm now," he said. "There used to be about 30."
In its heyday, Nicodemus was home to 700 people. Today, the census numbers 27, including Switzer's 103-year-old mother, Ora.
It was Switzer's mother who lured him back to the community, where he milked cows and fed chickens as a youngster.
Returning champ
In 1950, after graduating from Bogue High School, Switzer played football at Kansas State University, where he was an All-American in 1951, 1952 and 1953. He then played with the Green Bay Packers. He took a leave from the Packers to serve in the U.S. Air Force, where he played football on its championship team.
After 2 1/2 years in the military, Switzer returned to the Packers and went on to play for the Calgary Stampeders for a year and the Montreal Alouettes for two years before a knee problem sidelined him.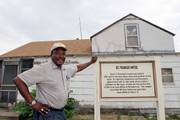 After a 10-year stint as a teacher and administrator in Chicago, he was hired by K-State and served in a variety of administrative and athletic department positions, including assistant dean of student affairs, assistant vice president of special programs, co-director of the affirmative action program and assistant director of athletics. He also ran the Earl Woods National Youth Golf Academy before retiring in October 2005.
Back to the land
Over the years, as land became available in the Nicodemus area, Switzer would buy it, knowing the property would increase in value over time. But he shied away from farming - that is, until his mother sold her acreage, bought eight or nine heifers and put them in his pasture.
"That's the way she got me involved," he said with a smile. "I've been farming off and on for 30 years. ... My retirement is working on the farm."
All-black town
When he was a kid, Switzer said about 135 people lived in the Nicodemus community. Most were descendants of the town's first settlers - black families who sought refuge from the racial oppression of the post-Civil War South.
The migration of black settlers began when the Rev. W.H. Smith, a black minister, W.R. Hill, a white land developer, and five other black men formed the Nicodemus Town Co. and began visiting church congregations in Kentucky to encourage people to move to Kansas.
Kansas was a natural draw. After all, it was a free state, part of the Underground Railroad and home to abolitionist John Brown.
"Handbills and fliers distributed by the Nicodemus Town Company portrayed Nicodemus as a place for African Americans to establish black self-government," a brochure distributed by the national historic site states.
Nicodemus was founded in 1877 and had attracted about 300 black settlers by the next spring.
By the mid-1880s, the settlers transformed Nicodemus into a prosperous town. They had two newspapers, three general stores, at least three churches, a number of small hotels, an ice cream parlor, a bank, a livery and numerous homes, the brochure states.
Waning population
To ensure its growth, the town needed a railroad. Despite the townspeople's efforts, the closest the railroad came was south of the Solomon River; Nicodemus lies north of the river.
So, over time, people moved closer to the Union Pacific railroad camp and eventually established a new town called Bogue. Nicodemus, in the meantime, began to wane.
Nicodemus is a shadow of the bustling town of the 1880s. While rich in history, Nicodemus is poor in business.
As a child - the youngest of six siblings - Switzer remembers a family style restaurant, a gas station, churches, Saturday-night dances and lots of guests sitting at their dinner table after church on Sundays.
He was born in his parents' home, which earlier housed the historic St. Francis Hotel. The now-stuccoed building is one of the original structures of the town. In addition to a residence and a hotel/stagecoach station, the building was the town's first post office - the oldest recorded black-operated post office in the United States.
"The east part of it was brought in by mules and horses in the 1930s and added to the frame portion," he said. "Before that, it was a one-story limestone building."
In 1952-53, Switzer said, he committed his first year's salary from the Green Bay Packers to renovating the hotel/residence.
"It's now back into my name," he said. "It's now a landmark."
Flour power?
The National Historic Site has boosted traffic into the town - last year, 8,600 visitors toured the site - and the annual Homecoming Celebration in late July brings former residents and their families back for a weekend of reminiscences.
But Switzer and others want more substantial dollars and investors to roll into the community. That's where their idea for a flour mill comes into play.
A flour mill seemed like a natural fit for the Sunflower State.
So, five wheat growers with ties to the community - Switzer, Sharyn Dowdell, Gil Alexander, Wilburt Howard and Rod Bradshaw - joined to establish Nicodemus Flour Co-op in 2000.
Hicks said the Kansas Cooperative Development Center in Manhattan and Langston University in Oklahoma supported the project in its initial stages and helped secure funding from the USDA.
The organizers named their product Promised Land Flour, and the first batch of flour was ground at a nearby mill in July 2001. After a while, the co-op began selling Nicodemus Pancake Mix.
But the flour co-op is foundering, and no mill was ever built.
The co-op has pulled back on the production of flour and is focusing on its pancake mix until it can find a permanent home for a mill. The pancake mix is now being made at Lehi Roller Mill in Lehi, Utah, and can be ordered at www.nicodemuskansas.com.
One farmer who still has faith in the flour mill is Switzer. This year, he planted 274 acres of wheat.
Copyright 2018 The Associated Press. All rights reserved. This material may not be published, broadcast, rewritten or redistributed. We strive to uphold our values for every story published.