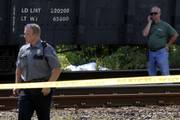 Lawrence police officers this afternoon are investigating an accident along the railroad tracks in North Lawrence.
Sgt. Paul Fellers said a fatality was involved, but no additional information was available at 3 p.m. as the investigation continued.
Officers had cordoned off access to a train that was stopped on the bridge over North Second Street just north of the Kansas River bridge.
Fellers said there was no danger to the public.
James Barnes, a Union Pacific Railroad spokesman, said the wreck disabled the 129-car train headed from North Platte, Neb., to Kansas.
The conductor, unable to stop, struck the person apparently trying to remove an object from the tracks.
"It looks like it was a tragic accident," Barnes said. "Our hearts go out to the family."
Along with local law enforcement, special investigators from Union Pacific and other company officials responded to the scene to help
Lawrence police and offer the conductor peer counseling, Barnes said.
The train was not derailed, and is being held for a couple of hours.
Union Pacific was alerted to the accident after company dispatchers contacted the critical inquiries office, which handles all incident
reports.
Copyright 2018 The Lawrence Journal-World. All rights reserved. This material may not be published, broadcast, rewritten or redistributed. We strive to uphold our values for every story published.