Photo Gallery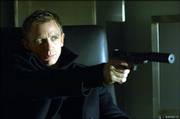 KUED Pulse Movies
The hype machine loves to talk about "summer movies." But most film fans know that the best cinematic material released each year comes out in that stretch between late September and Christmas.
Fewer sequels. Fewer remakes. Fewer adaptations of horrid 1970s TV shows.
Don't think it's all art films, either. The fall season is when the really witty comedies and some of the most powerful dramas hit multiplexes.
Here's what to expect in 2006:
SEPTEMBER
The Wicker Man
Kansas University graduate Neil Labute remakes the 1973 horror classic immortalized by its startling final scene. Nicolas Cage stars as a sheriff investigating the disappearance of a girl from an island who gets stonewalled by the locale's neo-pagan community.
Idiocracy
In a plot more politically relevant than ever, Mike Judge ("Office Space") presents a tale of an "average American" (Luke Wilson) who undergoes a Pentagon hibernation program. He awakens 1,000 years in the future to discover a society so dumbed-down that he's the smartest man alive.
Employee of the Month
Jessica Simpson discards her Daisy Dukes for a Costco uniform, playing a store hottie who agrees to date the employee of the month. This puts two slacker co-workers (Dane Cook and Dax Shepard) in competition for the privilege.
Jackass: Number Two
How do you follow up stunts like allowing sharks to eat shrimp from your underpants? The 11 cretins of MTV's "Jackass" will attempt to up the gross-out quotient in this sequel to the hit 2002 flick.
OCTOBER
The Departed
A gangster (Matt Damon) infiltrates the Boston Police Department while a cop (Leonardo DiCaprio) goes undercover in the Irish mafia, leading to a race to expose each other in Martin Scorsese's Oscar-ready epic.
The Fountain
Darren Aronofsky ("Requiem for a Dream") provides another mind bender with this fountain-of-youth tale involving a couple (Hugh Jackman and Rachel Weisz) whose romance spans 1,000 years.
Marie Antoinette
"Lost in Translation" maverick Sofia Coppola landed permission to shoot at the Palace of Versailles for her story of the 19-year-old Viennese gal (Kirsten Dunst) who became queen of France. Even so, the project got roundly booed during its Cannes debut.
The Prestige
The rivalry between two turn-of-the-century magicians (Christian Bale and Hugh Jackman) in a quest to uncover each other's secrets turns murderous in director Christopher Nolan's secretive follow-up to "Batman Begins."
NOVEMBER
Stranger Than Fiction
Will Ferrell plays an IRS auditor who discovers his every thought and action are the subject of narration only he can hear. Then the voice warns him that his death is just around the corner.
Casino Royale
Are audiences ready for a blond Bond? "Layer Cake" star Daniel Craig gets his shot at the 007 franchise in this adaptation of Ian Fleming's first novel in the series, which takes place prior to the agent having attained his license to kill.
Tenacious D in the Pick of Destiny
Cult acoustic metal act/comedy duo Tenacious D finally brings its act to the big screen in this tale of two slacker musicians (Jack Black and Kyle Gass) who scheme to steal a magical guitar pick housed in a far-away rock museum.
For Your Consideration
The mockumentary genre returns with director Christopher Guest reassembling most of his "Best in Show"/"Waiting for Guffman" troupe for an awards show parody involving three actors who learn their performances in the same picture are generating Oscar buzz.
DECEMBER
Apocalypto
Mel Gibson delivers another experiment in an archaic language. This time his story focuses on the Mayan kingdom, whose rulers decide to offer human sacrifices, compelling a man (Rudy Youngblood) selected for the "honor" to go on the run.
Night at the Museum
Ben Stiller slips into his traditional nervous bumbling mode to play a Museum of Natural History security guard who unleashes an ancient curse that causes the beasts on display to come to life and torment him. The plot may sound like a horror film, but it's actually a family comedy.
Music and Lyrics By
"American Dreamz" star Hugh Grant surfaces in another skewering of pop music as a washed-up singer who must compose a hit tune for an admiring teen diva. He gets inspired by his relationship with an offbeat younger woman (Drew Barrymore).
Dreamgirls
"Fame comes and goes, stars rise and fall, but dreams live forever" goes the tagline for this anticipated Broadway adaptation. Loosely based on the career of Diana Ross and the Supremes, the movie features Beyonce, Anika Noni Rose and "American Idol" refugee Jennifer Hudson as the R&B; trio.
Copyright 2018 The Lawrence Journal-World. All rights reserved. This material may not be published, broadcast, rewritten or redistributed. We strive to uphold our values for every story published.