Photo Gallery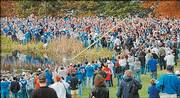 KUED Pulse Free Ride
If you've done your research - like every good college student should - you arrived in Lawrence knowing the city has a rep for its wicked entertainment scene.
Hardly a weekend - or a weekday, for that matter - goes by when there's not a band, art opening or some other happy diversion to lure you away from your textbooks and give you a feel for the River City's flow.
But, alas, you're a cash-strapped college student. The good news is, you don't have to suffer. Lawrence has enough entertainment bounty to share some of the love for free.
So while you're saving up your plasma donation money to see that can't-miss show at The Bottleneck a couple of months from now, here are entertainment options that won't cost you a penny:
Silver screen
If you missed recent flick you really meant to catch in the theater - or you want to see an old favorite one more time - places like the Spencer Museum of Art, 1301 Miss., and the Lawrence Public Library, 707 Vt., might be able to fulfill your cinematic needs. Both spots play host to occasional free film series.
Sometimes the movies are loosely associated with an exhibition at the museum or a book discussion at the library. Other times, they're just for fun. Like last winter when the Spencer showed "Office Space" at the end of the semester.
"We had 50 people show up on an ice-storm night," says museum spokesman Bill Woodard. "I think there are certain people who know about the screenings and are very, very loyal and come to a lot of them. But then there is a whole audience out there that hasn't discovered this yet."
The museum auditorium can accommodate about 250 people - it was standing room only last spring when "Memoirs of a Geisha" played - and it's a chance to see films on a fairly big screen (nearly the size of the Little Theatre at Lawrence's art house, Liberty Hall).
The back-to-school film that will screen during Hawk Week is the comedic "Shaun of the Dead."
The library schedules film series every July and October - sometimes April, too. About 100 people can fit in the auditorium, where films are shown on a screen that's about 14 feet square. The movies of director Robert Altman will be featured at 7 p.m. on Friday nights in October. The bonus: free popcorn.
KU football on the Hill
Other free events
¢ Lied Center Free Outdoor Concert, featuring The Wailin' Jennys, 7 p.m. Aug. 18, Lied Center lawn, 1600 Stewart Drive, 864-2787. ¢ 26th annual State Fiddling & Picking Championships, noon-5 p.m. Aug. 27, South Park, 12th and Massachusetts streets, 841-7817. ¢ KU student and faculty recitals, various times and locations, 864-3436, check www.ku.edu/~sfa for a full calendar. ¢ Tea Time, free tea and treats provided by Student Union Activities, 3 p.m. Thursdays, Kansas Union lobby, 1301 Jayhawk Blvd., 864-7469. ¢ Tunes at Noon, free lunch-hour musical entertainment by Lawrence- and Kansas City-area bands, sponsored by Student Union Activities, noon-1 p.m. Fridays, Kansas Union, 1301 Jayhawk Blvd., 864-7469. ¢ Cosmic Bowling, under the black lights AND with music, 10 p.m. Fridays, Jaybowl, first floor of the Kansas Union, 1301 Jayhawk Blvd., 864-7469.
When's the last time you saw a bohemian couple nibbling cheese and sipping merlot at a college football game? It's not an uncommon scene when the Kansas University Jayhawks take the field at Memorial Stadium - but only if you're catching the action from the only free seats in the house: on the Hill.
When the weather cooperates in late summer and early fall, watching a football game from a blanket or lawn chair on Campanile Hill can be a blast. The lawn is large enough to accommodate thousands of spectators, and if you pick a spot to the left or right of the giant scoreboard, you get a decent view of the field. If you really want to follow the game, though, bring a radio and headphones and tune in to the play-by-play.
You can bring your own munchies and beverages. And when the need arises, a line of Porta-Johns stands ready nearby. Another bonus: Great people watching. On the wide-open hill, you'll see packs of adorable kids playing catch and running wild; young couples in love, enjoying the evening air; and good-time fans decked in crimson and blue from head to toe.
And when the Jayhawks pull off a monumental upset - like last season's bust of a 36-game losing skid against the Nebraska Cornhuskers - you've got a primo view of your win-crazed classmates heaving the goalposts into Potter Lake.
Of course for fanatics who can afford the cheap student seating ($10 per game; $45 for the entire season), the action inside the stadium is hard to beat. But if you can't cough up the dough - or aren't committed enough to sports to want to - the hill's the place to be.
Farming the market
Perhaps you're too spoiled by your mama's home cooking to truly appreciate the joys of fresh produce. But trust us: After a few months of cafeteria fare and cheap fast food, you'll be pining for some fresh fruits and veggies. The Lawrence Farmers Market has you covered.
Saturday mornings and Tuesday and Thursday evenings, area growers set up shop in downtown Lawrence parking lots, hawking everything from hydroponic tomatoes to locally raised emu meat to dried wildflowers. The prices are reasonable, but that's not what earns the farmers market a spot on the free list.
Even if you don't indulge in a purchase, a visit to the market makes for some laid-back entertainment. Two local bands play every Saturday morning, and you can listen casually as you meander through the booths or sit at a nearby table. Appearing regularly are groups like The Prairie Acre, an old-time and bluegrass outfit.
This is your chance to get off the Hill and see how the townies spend part of their weekend. The market is open from 7 a.m. to 11 a.m. Saturdays in the 800 block of New Hampshire Street, and 4 p.m. to 6 p.m. Tuesdays and Thursdays in the 1000 block of Vermont Street through Nov. 11.
Happy trails
Bobbing your head at an indie rock show is great, but when you need to work out your neck kinks and blow off some steam, a nice hike or bike ride might be in order.
Lawrence fancies itself a bike-friendly community, and you'll see evidence of that in bicycle lanes painted on many of its thoroughfares. And if you avoid some of the town's crumbling sidewalks, there are plenty of attractive places to stroll as well.
For more rigorous exercise, the following trails are free:
Clinton Lake
(Free trail maps available at Overlook Park visitors center and online at www.nwk.usace.army.mil/clinton/trails.htm)
¢ North Shore Trail: About 7 miles long. Runs along the north shore of the lake and passes through oak and hickory forests as it follows the lake shore. Trailhead is located at Overlook Park, which is just south of the visitors center at the north end of the dam.
¢ George Latham Hiking Trail: About 4.5 miles; can be hiked in a little more than two hours. Meanders through forest, open fields and along the shoreline before returning to the trailhead, which is located at the Woodridge Primitive Camping Area.
¢ South Shore/Rockhaven Trails: Consist of many trails that total about 50 miles. Wanders through forests, past open fields, along the lake shore and over the top of rocky hills. Trailhead is located in the Rockhaven Public Use Area on the south shore of the lake.
Lawrence
¢ Prairie Park Nature Center, 2730 S.W. Harper St.: A paved, wheelchair-accessible trail leads down to Mary's Lake from the nature center. The entire loop is about 1 3/4 miles long.
¢ Kansas River Levee, Sixth and Mass.: Access walking and biking trails from points along the river near the bridge. Part of the area is open; part is wooded.
A closer walk with art
One of Lawrence's nicknames is the City of the Arts, and it lives up to the moniker. A stroll through downtown reveals sculptures on every other corner and galleries featuring painting, sculpture, jewelry, ceramics and photography by local and national artists. Even Lawrence Journal-World newspaper racks get a colorful injection by youth artists in the Van Go Mobile Arts program.
On several occasions, however, the arts community comes together to organize art experiences that you can plan a day or evening around.
Four times a year, downtown arts venues stay open late and highlight new work for the Downtown Friday Gallery Walk. The vibe is casual. Gallery-goers can take their time hopping from one show to the next, skipping spots that don't interest them and lingering in ones that do. Browsing and socializing - seeing and being seen - are emphasized over buying art (although that's welcome, too).
If you hit the pavement early - the festivities generally span 7 p.m. to 9 p.m. - you probably can even skip dinner. Most galleries set out tasty hors d'oeuvres and drinks, including wine and beer, so you can get your grub on. But don't forget to look at the art. The next gallery walk is set for Oct. 27.
Another opportunity to see a diversity of artwork - all created by local artists - is the annual Lawrence ArtWalk. What sets this event apart is that you get to see art displayed where it's created: in studios across Lawrence. Some artists even demonstrate their craft during the self-guided tour, which spans two days in October. This year, it's 10 a.m. to 6 p.m. Oct. 28 and noon to 6 p.m. Oct. 29. Guide maps will be available at the Lawrence Arts Center, 940 N.H.
Copyright 2018 The Lawrence Journal-World. All rights reserved. This material may not be published, broadcast, rewritten or redistributed. We strive to uphold our values for every story published.