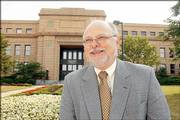 Joseph Steinmetz calls himself a frustrated musician.
He once played keyboard in a rock 'n' roll band to pay his way through college. But he's glad he didn't pursue any rock star ambitions.
"I'd be starving now," he said.
Instead, Steinmetz turned to academia. He recently took over the dean's post in Kansas University's largest unit, the 17,000-student College of Liberal Arts and Sciences. He earns $205,000 in the new position.
KU is lucky to have him, said some of Steinmetz's former co-workers at Indiana University-Bloomington.
"I wish we would still have him here," said Olaf Sporns, associate professor of psychology at Indiana. "He has been a key member of the department for as long as he's been here."
Steinmetz spent nearly two decades at Indiana, where he joined the psychology department in 1987 and served as chairman for a decade.
"He was elected as chair twice - unanimously," Sporns said. "That tells you something there."
Colleagues credit Steinmetz with helping to modernize and reinvigorate the department, which was renamed the department of psychological and brain sciences to reflect the new focus.
"He came at a time when the department was really in need of vision and direction and organization," said Dale Sengelaub, psychology professor at Indiana. "He single-handedly turned the department around. ... I think we lacked the will to make the change ourselves."
Sengelaub said Steinmetz showed administrative prowess as well as being a warm and engaging person.
"He's very clear in what he needs and wants," Sengelaub said. "He's very honest, very forthright. You always know what you're dealing with with Joe."
Steinmetz has a bachelor's degree in psychology and chemistry and a master's in experimental psychology from Central Michigan University, Mount Pleasant. He received his doctorate in physiological psychology from Ohio University, Athens.
Most recently, he was Indiana's executive associate dean of the College of Arts and Sciences. Steinmetz said he was searching for a new position, pursuing schools from California to Florida before he turned to KU.
"I really enjoy administration as much as I do research and teaching," he said. "This was the best position by far that was out there. I feel fortunate that they selected me."
Steinmetz said his short-term goal is to get out of the office, meet with faculty and familiarize himself with each department.
"I want to find out where the strengths are, where the weaknesses are, where the strong departments and not-so-strong departments are," he said. "That's crucial, I think very early on, to any long-term plans that one forms to push the college ahead, which is my overall goal."
It's no small task with the size of the College of Liberal Arts and Sciences.
"It's very difficult to meet all 650 faculty in the first year," Steinmetz said.
He said there are several ways to measure the progress of the College, including through rankings, an assessment of whether curriculum is up-to-date, and measurements of grant income and fundraising.
Steinmetz's wife, Sandy Steinmetz, described her husband as hardworking and organized.
"He doesn't procrastinate," she said. "We can't have piles of papers lying around. He has to take care of them."
The Steinmetz's two children live in Bloomington, where the eldest son works as a teacher and the younger son is pursuing a triple major in psychology, biology and neuroscience at IU. Sandy Steinmetz has taken a teaching post in Baldwin.
Steinmetz, an avid hockey fan, says he is someone who gets along with everybody.
"I want to be open," he said. "I want to be accessible. I'm a person that believes in getting things done, not avoiding things."
Steinmetz doesn't come alone. He will transport his research lab to KU, where it will be housed in Haworth Hall.
The research involves how the brain is involved in coding learning and memory, how the brain changes when people learn and remember things. A grant from the National Institutes of Alcohol Abuse is being used to study the effects of prenatal alcohol exposure on learning and memory and changes in the brain.
A second grant from the National Institutes of Mental Health is being used to study basic science of the cerebellum. Postdoctoral, graduate and undergraduates will work in the lab under Steinmetz's supervision.
"Many other people would have just left the lab at this point," Sandy Steinmetz said. "He still finds that's a very important part of his life."
Copyright 2018 The Lawrence Journal-World. All rights reserved. This material may not be published, broadcast, rewritten or redistributed. We strive to uphold our values for every story published.