Detroit — Rod Marinelli's debut as coach of the Detroit Lions got off to a good start with a 20-13 win over the Denver Broncos on Friday night.
Third-string quarterback Bradlee Van Pelt drove Denver deep into Detroit territory in the final minute and on a fourth-and-goal at the 9, his pass behind David Kircus was dropped.
Each of the Lions' quarterbacks - Jon Kitna, Josh McCown and Dan Orlovsky - led scoring drives, and Detroit's defense caused three turnovers.
Jay Cutler had a solid debut for the Broncos. The 11th pick in the draft was 16-of-22 for 192 yards and a touchdown.
Both starting quarterbacks, Kitna and Denver's Jake Plummer, played only one series and each moved the ball about 60 yards.
Tatum Bell finished with 26 yards on five carries and Mike Bell had 20 yards on seven rushes.
Giants 17, Ravens 16
Baltimore - Steve McNair produced a touchdown on his first series with the Ravens, then took a seat.
The Giants scored 10 points in the final nine minutes, and Jay Feely kicked a 29-yard field goal as time expired.
Falcons 26, Patriots 23
Atlanta - Michael Koenen, who handled the punting and kickoff duties last season, booted four long field goals, including a 40-yarder as time ran out.
None of them was a chip shot. He also connected from 44, 45 and 50 yards.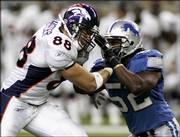 Bucs 16, Jets 3
Tampa, Fla. - Chad Pennington looks like a quarterback ready to reclaim his job.
Playing in a game for the first time since undergoing a second major operation on his right shoulder, Pennington worked two series.
The oft-injured seventh-year pro completed 9 of 14 passes for 54 yards and lost a fumble when he was sacked early in the second quarter.
49ers 28, Bears 14
San Francisco - Alex Smith looked sharp, good news for the 49ers.
Brian Griese looked just as good for the Bears - and that might be bad news for Rex Grossman.
Smith passed for 137 yards and led the 49ers to a big early lead.
Frank Gore rushed for 49 yards and a touchdown, while San Francisco's first-team defense shut down Chicago.
Copyright 2018 The Associated Press. All rights reserved. This material may not be published, broadcast, rewritten or redistributed. We strive to uphold our values for every story published.