Burlington — Ask anyone who has met her and even some who haven't, and they'll tell you Dannielle Breeze is a special young woman.
The 20-year-old loves dolphins, the color purple and listening to hip hop music. Like most girls her age she's interested in boys, shopping and movies. But what makes Dannielle Breeze different is the love and compassion she has received from her peers and perfect strangers.
Born with cerebral palsy, Breeze has always struggled with health issues. But a recent diagnosis of mixed axonal and demyelinating neuropathy has added to the complications.
Breeze's mother, Tina Breeze, describes the affliction as causing the inside and outside of the nerves to die. One recent development for Dannielle is the loss of the use of two nerves in her legs.
They just quit working, her mother said.
Eventually the disease, which has no treatment and no definite cause, will take over all her nerves, making her unable to walk, breathe or swallow.
"It depends on the person how fast it affects the body," Tina Breeze said. "There's no way of knowing how long she has."
So, at the advice of Dannielle Breeze's doctors and with their own intuition as parents, Tina and Dannielle Breeze's father, Rodney Breeze, decided to cut down on testing and doctor's visits to St. Louis and make Dannielle's time count.
"We're doing a lot of traveling and seeing a lot of relatives," Tina Breeze said. "We want her to spend as much time with her family as she can."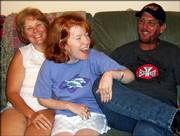 On the road
Since Dannielle Breeze graduated from Burlington High School in May, she's been traveling nonstop, with no end in sight. First was a trip to Omaha to the zoo. Then to the Wichita zoo for a boat ride. Next was a trip with her mother and best friend, Tawny Decker, 18, to St. Louis.
"Her doctor is in St. Louis, so we go there a lot. But we wanted to take Tawny and show her the hospital Dannielle always goes to," her mother said. "We spent the rest of the time just playing around."
Tawny and Dannielle's friendship goes back to kindergarten. At that time, Dannielle was walking with a walker and when the class lined up, she was put at the end of the pack.
"Tawny never thought that was right," Tina Breeze said. "So she'd go to the back of the line and walk with Dannielle. I just found out not too long ago that Tawny used to get in trouble for getting out of line.
"I'm glad she did it, though. She saw that that wasn't right. The girls have had each other's backs ever since."
After the trip to St. Louis, it was back to family trips. The family visited cousins in Pueblo West and then grandparents in Cheyenne. Two days after returning from that trip, it was off to California to see Dannielle's aunt and uncle.
Swimming with dolphins
Next on their list is a drive through Yellowstone National Park. Upon their return, the family, along with Tawny, will head to the Bahamas where Dannielle will fulfill her wish of swimming with the dolphins.
"On Friday, the girls will have a 3 1/2 hour wading session with the dolphins," her mother said. "And then on Saturday they'll have a 3 1/2 hour swimming session."
But after wishes are fulfilled, the fun doesn't stop.
Next up is Orlando to go to Disney World, Sea World and whatever else tickles Dannielle's fancy. After Orlando, the big road trip begins. Tina and Dannielle, along with brother R.J., 19, and sister Michelle, 22, will drive up the East Coast from Orlando to Virginia to see another uncle.
Rodney Breeze will meet them in Virginia and continue with Tina, R.J. and Dannielle on to Niagara Falls and eventually Detroit, before finally heading home to Burlington.
"We'll modify the trip as we go," Tina Breeze said. "If she gets tired and wants to stop or slow down, we'll stop."
"You'll have to stop when you run out of money," Rodney Breeze said.
For Dannielle's friends and family, the trip will be bittersweet. Once it is over, they'll be tired and relieved, but, Tina said, they also know they'll be that much closer to losing Dannielle.
'People just started giving'
Regardless of the circumstances, they say they're grateful. If it weren't for the help of family, friends, neighbors, classmates, co-workers and complete strangers, none of it would be possible.
"We never asked," Tina Breeze said. "People just started giving. It's been overwhelming and outstanding."
The plane tickets to California were donated by Southwest Airlines. The trip to the Bahamas was a gift from Dannielle's classmates, who held bake sales, and fundraisers by the local auto club. Disney World donated three-day passes to the family, and a classmate's father donated his one-week time-share condo in Orlando.
It seems everyone who comes in contact with a member of the Breeze family has a desire to help.
A man from Wichita who read Dannielle's story told the family he usually donates to the Make-A-Wish Foundation. Because Dannielle is too old for that program, he sent his donation directly to her family to help make her fish of swimming with the dolphins come true.
"There's no way we'll be able to pay everyone back," Tina Breeze said.
Instead, the Breezes plan to thank their donors in another way. In August, they will have a two-night open house at Burlington High School to share photos and videos from their journeys.
"It's the only thing we can think to give the people who have given us so much," Tina said. "We can share Dannielle's story with them. That's the best we can give."
Copyright 2018 The Lawrence Journal-World. All rights reserved. This material may not be published, broadcast, rewritten or redistributed. We strive to uphold our values for every story published.