Cincinatti — It's summertime, the start of school is still a few weeks away, and the Cincinnati Reds' clubhouse is filling up with kids, lucky kids whose fathers are big league ballplayers.
Decked out in team-issued, red-pinstriped uniform pants and batting-practice jerseys, they had outside to take BP or play catch on a big league baseball diamond under a big league sun.
And at some point they all have to pass by the double-wide corner locker where Ken Griffey Jr. sits on a giant trunk and trash-talks them.
"You'd better come give me a high-five," Griffey yells to 6-year-old Ryan Weathers, son of pitcher David Weathers. And when the boy refuses and begins to run away giggling, Griffey pounces.
"I'm going to be your agent, right?" Griffey screams. He has the boy down on the floor, squirming, unleashing a barrage of noogies, pokes and tickles. Ryan is shaking his head, giggling uncontrollably. "C'mon, I'll do it for three percent," Griffey says. No deal. "Two and a half!" Finally, the boy relents and Griffey sets him free.
"Don't forget," Griffey yells after him. "We have a deal."
Griffey climbs back on the trunk, laughing - "The Kid" at play, the slugger at peace. Now in his 18th major league season, with three or four careers' worth of accomplishments and heartbreaks behind him, Griffey, 36, is an elder statesman of the game, a father of three and - it appears - the patriarch of what might be called the Reds' extended clubhouse family.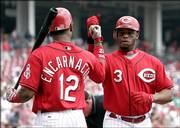 "He's great with them," marvels first baseman Scott Hatteberg, the father of three girls. "He's still 'The Kid,' you know? It's like he's one of them."
He was a big leaguer at 19, an all-star at 20, a father at 24 and a virtual-lock Hall of Famer by 34. He was for the longest time the game's most complete, most elegant player - winner of 10 Gold Glove awards and four home run titles. Jim Bowden, who as the Reds' general manager made the trade that brought Griffey back to his home town in 2000, once called him "the Michael Jordan of baseball."
And at one time, before a slew of injuries wrecked the story line, Griffey was considered the leading contender to break Hank Aaron's hallowed record of 755 home runs. That's not likely to happen now - at least not by him - yet Griffey still carries himself, here in the autumn of his career, as someone with no regrets.
"All I've ever wanted to do is be like my dad," Griffey says, referring to Ken Griffey Sr., a Reds mainstay in the 1970s. "I never thought I'd hit 500 home runs (he has 559). I was shooting for 152 because that's how many my dad had."
The Reds, 11 years removed from their last playoff appearance and six years since their last winning season, are back in contention this summer.
Griffey's numerous injuries made him the focal point of fan disenchantment in recent years, leaving him, by all accounts, sullen and withdrawn. But now he is a major part of the Reds' renaissance, contributing 23 homers and 63 RBIs thus far, second on the team in each category to left fielder Adam Dunn. His rate of one homer every 14.6 at-bats ranks ninth in the league. Though the Reds are a flawed team, there is, for once, hope in Cincinnati that Griffey could play in his first World Series this fall.
Copyright 2018 The Lawrence Journal-World. All rights reserved. This material may not be published, broadcast, rewritten or redistributed. We strive to uphold our values for every story published.