Need an oil change? A haircut? A moment of peace?
Get it now.
Thousands of students will return next week to Kansas University, ending the tranquil summer months and the ability to jet across Lawrence at will.
"Bring 'em on," said Nicholas Beck, general manager of the local Juice Stop chain. "That's what I say."
KU residence and scholarship halls open Sunday, and fall semester classes begin Aug. 17.
Lawrence public school students begin returning to class on Aug. 16 with the regular schedule for students in first through 12th grades beginning Aug. 17.
Gone will be the quiet days of summer, which will be replaced with heavy traffic on major thoroughfares and longer lines at some businesses. And good luck finding a parking space on Massachusetts Street on the first pass.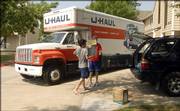 "I don't dread it and I don't rejoice," said Kris Fancher, a Douglas County resident who has grown used to the annual change. "I just deal with it."
Businesses welcome the onslaught.
"It gives me something to do - other than standing around," said Brian Papa, cook at Pyramid Pizza, 701 W. Ninth St. "I make better tips when they're back."
Now is the time to get an oil change, said Brendan Sullivan, owner of Meineke Car Care Center, 2535 S. Iowa.
"We're a little quieter," he said. "We have a huge pickup in the fall."
More about the students' return
There's a calm before the storm at Images Salon and Day Spa, 511 W. Ninth St., according to receptionist Helena Peter.
Once the students return, patrons should try to make appointments in advance rather than hoping to get squeezed into the schedule on the day they call, she said.
And patrons at the Juice Stop downtown should expect to see crowds - not just from college students, but the junior high teenagers who flock to the joint after early dismissal on Wednesdays, Beck said.
"That's when it becomes a madhouse," he said.
-->
Several business owners said they beefed up their staff to deal with the crowds, rather than make customers suffer long waits.
Sunflower Broadband, which is owned by The World Company, brings in extra staff and has other employees work longer hours to keep up with calls and new orders for cable, Internet and phone service, said Joe Ryan, director of sales and support.
"It's really business as usual, but it's on steroids," Ryan said.
The rush began in late July and continues into August, he said. This Saturday will be a busy time inside the Sunflower lobby with customers in line, Ryan said.
Ryan suggested customers who want to miss the rush make their orders online or come to the office before 10 a.m.
"The student population has a different daytime (schedule)," he said.
Coming Saturday
Look for the KU Edition - a look at student life, academics, sports, entertainment and more at Mount Oread - inside Saturday's Journal-World.
Year-round residents are used to the influx of students each August. Some make slight changes to their routines to deal with the inflated population.
"I have to leave earlier and watch more closely to how I'm driving," said Marina Reever, a Lawrence resident. "Not everyone is paying attention, so I have to pay attention."
But some students don't know what the fuss is about if traffic is busy and businesses are lively.
"That's the Lawrence we know," KU sophomore Sarah Weltner said.
Copyright 2018 The Lawrence Journal-World. All rights reserved. This material may not be published, broadcast, rewritten or redistributed. We strive to uphold our values for every story published.