With a storm approaching late Wednesday night, 15-year-old Max Roberts made sure his car was tucked away in the garage, leaving no room for his parents' truck.
It's not often parents leave their cars in the driveway to make room in the garage for their teenager's car, but Max's parents, Harold and Susan, make an exception. After all, how can Max race his car on weekends if it has hail damage?
Roberts, a Lawrence native, has been racing since 2002 when he started out on go-carts.
"I had always wanted to race ATVs (all-terrain vehicles) and motorcycles, but my parents said that was too dangerous, so they got me a go-cart," Roberts said.
Four years later, Roberts is in his first year of racing in the Limited Modified division. But before he was doing circles around the competition on four wheels, he participated in track and field.
However, a nagging knee condition forced Max to give up track and field, so Max looked for another sport to fulfill his competitive nature. He found racing.
"Once you get out there, you just kind of forget everything," Roberts said. "It doesn't matter how bad you hurt, you just go for it."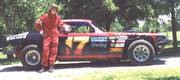 His knee condition may have slowed him down in other sports, but Roberts has been nearly unstoppable since he started racing cars.
In his three years racing go-carts, he won Rookie of the Year, finished second in points in two classes in 2003 and racked up 28 total wins.
With little left to accomplish racing go-carts, Max decided to move up to the Factory Stock division despite having four more years of eligibility left in the go-cart division.
In 2005, Max's success carried over from the go-cart division to the Factory Stock division. Despite opponents in their 20's and older, Max was named Rookie of the Year and finished fifth in points for the season.
"That was our main goal because I'd got (Rookie of the Year) in go-carts my first year, too," Max said. "We never would have thought I would have done that good to get fifth in points because that's a tough class."
The season wasn't without its drawbacks, though. In all of Roberts' years of racing, he'd never been involved in any serious accidents. His luck ran out in a 2005 race.
"Going into the first corner on one of the laps, a guy had spun me out and before I was able to get going again, someone rear-ended me," Roberts said. "I couldn't go after that and someone else ran into me and that just totaled the car."
Luckily, he hasn't had any more accidents.
Since Roberts started racing full-size cars, he's had to travel all the way to Nebraska to race on weekends.
Because of a 16-year age restriction at most tracks, Nebraska is one of the few places where Roberts is allowed to race. In fact, he had to get a learner's permit just so he could race.
Even with the permit, Roberts rarely drives away from the track. When he does, it feels a little funny not to be going over 80 mph.
"It seems so slow," he said. "And the freeway seems so slow."
Roberts said this season was going very well and he usually raced at Thunderhill Speedway in Mayetta, or Beatrice, Neb. He said the races at Thunderhill were more for experience than to win because the racers are older and the cars there are built faster, but he still usually manages to pass about five cars per race. At Beatrice, the racers are still older, but the cars are on the level and Roberts has a fifth-place finish to show for it. He has also started to get some national recognition and appeared in the August issue of Stock Car Racing magazine.
So far in his career, Roberts said racing has come easier to him than expected, but he still needs to improve on setting his car up for races.
To better prepare the car for races, Roberts said the help friend and pit crew member Brett Reineman has given has been invaluable.
"He goes to every race with us, he's always out in the garage helping us," Roberts said. "He just helps us build the cars and do maintenance every week."
Roberts said Reineman, 16, has learned how to work on race cars from reading books on the subject. And because he and Reineman are such good friends and so close in age, Susan Roberts said she could see the two working together for years to come.
As for the future, Roberts can't wait to turn 16 so he can race closer to home and see how he compares to the local competition. Roberts would especially like to race at tracks like Kansas Speedway someday on the NASCAR circuit.
But for now, he is focused on finishing this season. He thinks he will be able to make it to three more races this year and hopes to race in the Limited Modified national race in Beatrice.
One thing that certainly won't keep him from doing so is his knee condition. Susan Roberts said his knee was bothering him last week, so she asked if he would be able to race. "Oh yeah," was his reply.
Copyright 2018 The Lawrence Journal-World. All rights reserved. This material may not be published, broadcast, rewritten or redistributed. We strive to uphold our values for every story published.