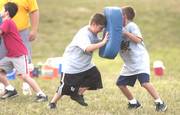 It's the start of August and the heat has turned from bad to worse. It's hot- too hot.
But not too hot for football.
Despite scorching temperatures, the Lawrence Hurricane teams took to the practice fields at "Dad" Perry Park last week for their first football practices of the summer.
Bret Toelkes, coach of the sixth-grade Hurricane team, said the coaches pushed practice times for the week back an hour to keep players from overheating. As for the players, they took precautions before practice even started to beat the heat.
"Drink lots of water," sixth grader Jake Mosiman said.
However, there was one team that wasn't going to let its practice plans go up in flames.
Long after the second, third fourth, and sixth-grade teams left the fields on Tuesday, the fifth-grade Hurricane squad was still running through drills. When they were done, the coaches considered it an early end to the practice.
"We could have easily gone for another half-hour or so," coach Keith Loneker said. "You've got a lot of stuff to get in and a short time to get it in. We ask a little bit more out of these kids than most, so it takes a little bit of extra time."
One such thing Loneker and his fellow coaches asks from the team is for them to comprehend unconventional offensive formations like the "overload." A normal offensive formation has a center, who hikes the ball, and a guard and tackle on each side of him. The overload formation, though, requires one of the guards or tackles to switch sides so there is an extra lineman on one side of the ball.
"That's kind of our deal," Loneker said. "We like to run the ball a lot, so we run overload a lot."
Loneker said the overload formation gave his team a short corner to run around if the defense shifted or an extra blocker if the defense didn't shift. To take advantage of this, though, his players have to learn to recognize the defense's alignment.
But Loneker would rather help prepare his players for football at the junior high and high school levels than allow them to get bored with the sport.
"Our playbook is a little more elaborate," Loneker said. "I don't know if that's good or bad, but we've got a pretty good group of kids, so I'm constantly trying to challenge them to keep them interested and teach them a lot of football."
And with Loneker's intensity, it's hard to believe his players could even lose interest.
In a few weeks, the Hurricanes begin playing weekend tournaments and Loneker looks forward to every one of them. But it doesn't take a tournament to get the excitement going.
"Every time they can put their hands on the ground and play football, I'm looking forward to it," Loneker said. "I'm looking forward to them putting the pads on as much as the tournaments."
Although the Hurricanes weren't in pads last week, it was hard to tell the fifth-grade team's practice from a normal one. While some Hurricane teams only went through one or two drills on Tuesday, the fifth-graders went through more than five.
They first reviewed which side of the ball plays went to, depending on the call, and were soon coming out of the huddle and running plays. The team also broke up into two groups. One group worked on handoffs and pitches. The other worked on stances and firing out.
While some coaches might be hesitant to throw so much at their team on day one, Loneker and his assistants have a pretty good idea of what their team can handle because they've coached these players in other sports. Loneker gets excited at the thought of how he's seen his players grow over the years.
"It's been awesome. These kids are getting pretty good," Loneker said. "They know their stuff."
Copyright 2017 The Lawrence Journal-World. All rights reserved. This material may not be published, broadcast, rewritten or redistributed. We strive to uphold our values for every story published.