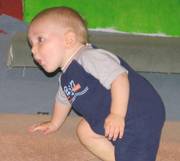 While those around him soared through the air, danced across the floor and dangled from rings and uneven bars, Barrett Bartley crawled across a balance beam, just inches off the ground.
No, Barrett wasn't the most breathtaking gymnast at the Lawrence Gymnastics Academy's celebration for National Gymnastics Day, but then again, he is only 16 months old.
"His sister is on the team, so he comes and watches and watches," Barrett's mother Patti said. "He's been waiting his whole life to get on this equipment."
For the second year in a row, the Lawrence Gymnastics Academy used National Gymnastics Day as a way to recruit budding gymnasts. On Saturday, the LGA opened its doors to children of all ages to show off its programs and facilities and offer up some free food.
Girls gymnastics coach Maria Snyder said the event was a hit in its first year, so the Academy decided to try it again this year.
"We like to use it as a way of getting us out into the community and promoting us," Snyder said.
However, the LGA has already gained some publicity thanks to the services it provides, like its open house on Friday nights. The open house allows parents to drop their kids off and go out on their own for a few hours.
Whether the children are serious gymnasts or not, they are more than welcome at the open house, which is how Jennifer Hare and her son Mason first got involved with gymnastics.
"He comes to the open house on Friday and he loves it, loves it," Hare said.
Mason is two-and-a-half years old, so he is just getting the strength to use some of the equipment, but Jennifer said Mason has had a favorite piece of equipment since his first visit to the LGA the pit.
The pit is pretty much what the name implies a hole in the floor in the corner of the equipment room but it's filled with hundreds of foam squares so kids can jump (or fall) into it without fear of injury.
Jennifer said it's too soon to tell whether Mason would compete in gymnastics, but either way, doing gymnastics now will benefit him in the future.
"We hope he wants to be athletic in life and this is such a good basis for that, so I would enroll him in gymnastics," Hare said. "I don't know if he'll be a gymnast, but this will help him be whatever he wants to be, that's for sure."
Chris Riley is another parent who took advantage of the open house on Friday nights and now both of his sons, Kayden and Brandt, are involved in gymnastics.
At 19 months, Kayden is just getting started, but 6-year-old Brandt has been doing gymnastics for nearly two years despite being more interested in baseball.
Nevertheless, Chris said the Lawrence Gymnastics Academy has never pressured Brandt to become more serious about gymnastics.
"That's pretty cool that they allow kids like that to come in, just for fun," Riley said. "They don't want to compete, they just want to blow off some steam, go home and take a nap."
Occasionally, the LGA will attract members without even trying.
Barrett is Patti's third child to show an interest in gymnastics, following in the footsteps of his older sisters Bailey, 12, and Peyton, 8. When Bailey got started in gymnastics, Patti said the idea was actually her daughter's.
Patti said Bailey saw gymnastics on television and was instantly drawn to the sport. She started trying some of the events at home without even knowing she was doing gymnastics. When she turned four she wanted to learn more about the sport at an academy, which was a relief to Patti.
"She does it at home all the time the furniture takes a beating," Bartley said.
From here, parents can sign their kids up for 19-week sessions if they're serious about gymnastics. If not, their children will always be welcome at open house nights and next year's National Gymnastics Day celebration.
"Our big philosophy is just having them have fun," Snyder said. "And just being physical and active."
Copyright 2018 The Lawrence Journal-World. All rights reserved. This material may not be published, broadcast, rewritten or redistributed. We strive to uphold our values for every story published.