Dwight Freeney gave the Indianapolis Colts a brief scare Tuesday.
The three-time Pro Bowl defensive end watched the team's morning practice after complaining of a sore shoulder, then was cleared to practice in the afternoon for a light workout in which the Colts didn't wear pads.
Freeney participated in some drills but skipped the team scrimmage that typically ends practice.
"The MRI came back fine," coach Tony Dungy said. "He worked and did well, and slowly, but surely, we're starting to get some of them (injured players) back."
Dungy said Tuesday morning that Freeney was being held out as a precaution until he could undergo an MRI but gave no indication Freeney would return so quickly. He called the injury a strained shoulder.
"It's something that's been bothering him, and it's our sense that he will be fine," Dungy said after the morning practice. "We just want to get it checked out. If it was a regular-season game, I'm sure he'd be out here practicing and playing."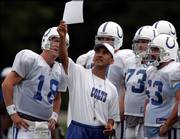 Dungy was uncertain which shoulder Freeney hurt or whether it was the one that required minor surgery last year.
When the afternoon practice ended, though, Dungy acknowledged that Freeney might even be available to play in the Colts' preseason opener Thursday night at St. Louis.
While Freeney was able to return, the Jets are still not talking about when running back Curtis Martin will return.
The No. 4 all-time leading rusher has been squirreled away inside the Jets complex rehabbing his right knee, making it a mystery when he will play again. Even teammates sound spooked when asked about how their teammate is doing.
"Curtis? I haven't really talked to him," said fellow running back Derrick Blaylock. "I really don't know how he's feeling right now."
Cowboys
Bill Parcells has no problem with Terrell Owens bringing in his own experts to help his ailing hamstring.
The Dallas Cowboys coach does have a problem with all the attention the injury is generating.
With T.O.-related questions again dominating his daily gathering with reporters, Parcells tried getting off the subject by saying: "I'm getting the sense that most of the media is just waiting for something to be controversial in that regard. And I'm here to tell you, it's not going to happen from me. So you need to get that in your head. OK?"
When the topic was broached again later, Parcells warned not to try interpreting his mood on this subject.
Dolphins
Defensive back Jason Allen signed a six-year contract, ending a 10-day contract impasse between the team and its first-round pick.
Allen, who was selected 16th overall, and the Dolphins agreed late Monday to the deal that reportedly includes up to $9 million in guaranteed money. He was on the field with the team Tuesday morning for the first of two scheduled workouts.
With Allen's signing, only Arizona quarterback Matt Leinart - the No. 10 overall selection - remains a holdout among this year's first-round draft picks.
Patriots
New England signed free-agent wide receiver Eddie Berlin, adding another player to a position where it lacks depth.
Berlin has played 62 games in the NFL, spending four seasons with Tennessee and playing five games with Chicago last year. He has 26 receptions for 379 yards and two touchdowns and has returned 30 kickoffs in his career.
Steelers
Reserve center Chukky Okobi's neck injury might be career threatening.
The sixth-year veteran complained of neck pain last week and was held out of some contact drills, but the pain persisted and team doctors checked him out Tuesday. Okobi has a herniated disc in his neck, an injury that could threaten his season and possibly his career, coach Bill Cowher said.
"It could be very significant," Cowher said. "I don't want to give you any more than that, but it does not look good."
Cardinals
Receiver Anquan Boldin sat out practice with a sore hamstring for the second day in a row and might not play in Saturday's preseason opener against Pittsburgh.
Defensive tackle Kendrick Clancy also missed practice with a sore groin.
"We don't know about either one of them," Arizona coach Dennis Green said of their prospects for playing on Saturday. "We'll probably know tomorrow, or Thursday at least. Obviously if there's any leftover injuries, we'd hold them out. We've got a lot of guys out there who want to play and show what they can do."
Copyright 2018 The Associated Press. All rights reserved. This material may not be published, broadcast, rewritten or redistributed. We strive to uphold our values for every story published.