Gov. Kathleen Sebelius announced today that Don "Red Dog" Gardner will receive the state's first Hometown Health Hero Award.
Gardner, a retired Lawrence police officer who has organized the Red Dog's Dog Days workouts for 23 summers at Kansas University's Memorial Stadium, will receive the award at the 6 p.m. Thursday workout at the stadium.
"Don Gardner and his commitment to helping Kansans maintain a regular physical activity schedule epitomizes the leadership and qualities that make a Hometown Health Hero," Sebelius said in the announcement released by her office. "Don's selfless gift of time and energy to the community of Lawrence is greatly appreciated."
Gardner and a group of volunteers conduct three 45-minute free activity workouts a day that draw hundreds of participants.
The 6 a.m., noon and 6 p.m. Monday through Thursday sessions bring area residents of all ages and activity levels to the stadium. The workouts include stretching, calisthenics and aerobic activity that varies each day.
Participants might find the 45-minute workout includes running up Campanile Hill backwards, scaling the steps south of Wescoe Hall or running the bleachers in the stadium all the way to the top - often in 100-degree heat.
Photo Gallery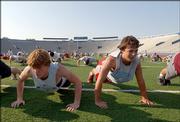 Red Dog's Dog Days
Motivational speakers are also brought in during the summer, including several KU coaches. For example, longtime Lawrence radio personality Hank Booth spoke this morning and KU volleyball coach Ray Bechard spoke Monday and Mark Francis, KU soccer coach, spoke last week.
The session are twice a day in June and then three-times-a-day in July and early August.
The Governor's Council on Fitness established the Hometown Health Hero Award in support of the governor's Healthy Kansas initiative.
"The Governor and the Council seek to recognize the efforts of individuals across the state that have either had a significant impact upon their community or a great personal achievement in the areas of physical activity, promoting healthy diets or working to prevent tobacco use in Kansas," according to the Sebelius' office.
Since 1984, Dog Days has grown from six or seven athletes into a community event with an average attendance in the morning and evening of 450-500 individuals and an average of 150 people at noon. In June, Dog Days set a morning attendance record of 640 people.
All individuals check-in with organizers prior to each session to record their attendance, and those attending 25 or more sessions earn a "Red Dog's Dog Days" T-shirt.
A 1956 graduate of Lawrence High School, Gardner began his annual summer program in 1984 with his daughter, Leslie (then an LHS senior football trainer) and friend, Jim 'Punkin' O'Connell, to assist LHS football players with a pre-season conditioning program.
Copyright 2018 The Lawrence Journal-World. All rights reserved. This material may not be published, broadcast, rewritten or redistributed. We strive to uphold our values for every story published.