Sao Paulo, Brazil — Assailants sprayed gunfire at police, set off bombs outside government buildings, and torched buses and banks Monday in a new wave of attacks that authorities suspect were ordered by gang leaders from behind bars.
Criminals believed to be part of a gang ruled by imprisoned leaders attacked 78 symbols of government and businesses across Sao Paulo state, Brazil's most populous, according to the state's police commander, Col. Elizeu Eclair Teixeira Borges.
Police killed two suspects and took 12 into custody. One security guard was injured in a bank attack, and four bystanders were hurt by shards of glass after a Molotov cocktail was thrown at a business, Borges said.
"I have absolutely no doubt that we will win this war, it probably won't be this month or next month or maybe next year, but we will win it," Borges told reporters.
To prevent a repeat of Monday's violence, Borges said a "state of high alert" had been ordered. The number of patrol cars circulating in Sao Paulo late at night would be tripled while the number of police officers would double.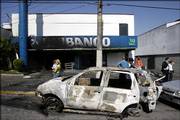 The leaders of the First Capital Command gang are accused of launching a wave of violence on Sao Paulo's streets in the last three months that killed nearly 200 people. Imprisoned gang leaders used smuggled cell phones to order their "soldiers" on the streets to attack after 700 members were transferred to more secure prisons in May.
Authorities acknowledge that the First Capital Command controls life inside about 80 percent of Sao Paulo prisons, with smaller ones ruling the rest. And experts say that until their clout behind bars is broken, they won't lose their power on the streets either.
Justice Minister Marcio Thomaz Bastos again offered to send army soldiers to patrol the streets of South America's largest city, an offer refused twice this year by authorities.
Copyright 2018 The Associated Press. All rights reserved. This material may not be published, broadcast, rewritten or redistributed. We strive to uphold our values for every story published.