Las Vegas — With the nightclub Tao swathed in red and black, music pulsated and go-go dancers gyrated on raised platforms along the wall.
Everything - from the "reserved" signs to the billiard table felt to the models' Chinese-style dresses - bore the same label: "bodog.com."
The only thing missing was the online gambling site's flamboyant founder, 45-year-old Canadian Calvin Ayre, who was nowhere to be found.
"He'd have girls all around him and he'd be the life of the party," said Ronn Torossian, a publicist and acquaintance familiar with Ayre's celebrating ways.
The billionaire who graced Forbes magazine's March cover decided to make himself scarce after federal authorities arrested David Carruthers, the head of rival Web gambling operator BetOnSports PLC, as he changed planes July 16 at Dallas-Fort Worth International Airport.
A federal judge ordered BetOnSports to stop accepting bets placed from the United States, and prosecutors are seeking the forfeiture of $4.5 billion, plus several cars, recreational vehicles and computers from Carruthers and 10 other people associated with the Costa Rica-based gambling operation.
Around the same time, the U.S. House passed a bill that would ban most Internet gambling. Though the bill's future in the Senate is uncertain, the issue loomed over the World Series of Poker in Las Vegas: Is online poker legal?
Tournament organizers and the U.S. Justice Department say no.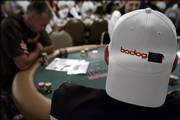 Players - thousands of whom qualified in cash-paying Internet tournaments - say yes.
"I've got no certainty whatsoever," said Ayre, speaking by phone from Canada, days after Carruthers' arrest. "I don't believe any senior executive of any online gaming company is going to be going into the United States for the foreseeable future. It's not just me, and I've talked to a lot of them."
Online competition emerges
The World Series of Poker's uncomfortable relationship with online gambling emerged in 2003, when an unknown accountant named Chris Moneymaker qualified through a $40 online tournament and went on to win the $2.5 million main event, becoming the poster child for the wild popularity of online poker.
Advertising by poker sites on mainstream television exploded - and then the Justice Department intervened.
In a letter June 11, 2003, John Malcolm, a deputy assistant attorney general, warned the National Association of Broadcasters that the department considered Internet gambling illegal.
"Any person or entity who aids or abets" online betting, he wrote, "is punishable as a principal violator."
Major networks reacted by forcing online poker companies to create "dot-net" sites, on which poker was played only for fake money and no reference or link would be made to the "dot-com" versions, where billions of very real dollars are wagered every year.
Thus, PartyPoker.net, the so-called "World's Largest Poker School," has become an official sponsor of the World Series of Poker, its logo visible every time a flop hits the felt. PartyPoker.com, the moneymaking reason for its existence, lurks in the shadows.
By some counts, about half of the 8,700 players in the World Series' main event qualified through online satellite tournaments. PokerStars.com boasted that more than 1,600 qualified on its satellites. PartyPoker.com is reported to have sent more than 800 qualifiers, and bodog.com says it sent some 700.
But Jeffrey Pollack, tournament commissioner, insisted that an online tournament isn't what puts a player into the World Series - it's the $10,000 cash he individually pays for a seat at the table.
Logos cause game delay
The televised tournament's first day was even delayed by several minutes as organizers announced that anyone sporting a "dot-com" poker logo would not be allowed to play. About half that day's field of more than 2,000 players flipped shirts inside-out, and workers circulated with rolls of black tape, covering any "dot-com" symbols they could find.
"Tape or not, I still look good," said David Daniel, a 31-year-old player from Bristol, Tenn., who qualified by winning $10,000 in a $160 "double-shootout" tournament online and was wearing a "PokerStars---" hockey jersey.
The House bill that would ban Internet gambling - except for horse race betting and state lotteries - is an attempt to close a perceived loophole in the 1961 Wire Act, one of a series of laws meant to crack down on racketeering.
The Wire Act explicitly forbids businesses from using a wire communication facility to assist in placing bets on "any sporting event or contest." But the wire law doesn't cover other types of casino betting, a federal appeals court in New Orleans has ruled, leaving some doubt whether prosecutors can shut down Internet poker and other casino games.
Of course, with or without a new law from Congress, the Justice Department interprets all online gambling to be illegal. Other countries allow it, so online companies have set up operations outside the U.S. but with easy access to U.S. players and their computers.
"Online poker is online gambling. And online gambling, we would say, is illegal," Justice Department spokeswoman Jaclyn Lesch said.
Poker advocates suggest the department's enforcement practices don't back up that assessment. Indictments dating to 1998 have focused on operators of online sports books, not sites that offer only poker.
Not only are there hurdles in arresting the operators of such sites in Costa Rica, Aruba, the Isle of Man and Gibraltar, but many argue poker tournaments online technically are not gambling.
"You get a prize for a competition," said Howard Krent, dean of the Chicago-Kent College of Law at the Illinois Institute of Technology.
Copyright 2018 The Associated Press. All rights reserved. This material may not be published, broadcast, rewritten or redistributed. We strive to uphold our values for every story published.