Temperatures soaring near 100 degrees Sunday afternoon didn't keep Tom Phillips, a 20-year season-ticket holder out of St. Louis, from driving two hours to see the 2006 Missouri football team up close.
"It means a little more when you watch them (on game days) when you get to meet them like this," Phillips said as he waited inside Memorial Stadium for the team's annual fan festival.
Minutes later, Phillips joined hundreds of others for the chance to straddle the logo on Faurot Field's 50-yard-line, play catch with their kids and, most importantly, look squarely in the eyes of players whose faces usually are shielded by distance, helmets and face masks.
The fans didn't discriminate, seeking autographs from stars and walk-ons alike. Even the offensive linemen, typically among the most anonymous on the field, had their temporary moments in the spotlight.
"It doesn't matter who you are, they seem to grab ahold of you," said Ryan Madison, a sophomore offensive lineman from Bethany.
While some players sought shelter from the unrelenting sun in the stadium's shaded corners and the tunnels beneath the bleachers, junior wide receiver Will Franklin remained on the field, a straw hat on his head and a wide grin on his face.
"I love doing this. It's giving back to the community," he said. "I remember I was once in this position of just wanting to meet college athletes. I still am. I'm amazed at a lot of other college athletes."
Photo Gallery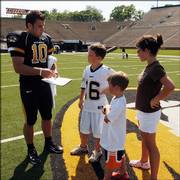 MU Football
Practices officially began Saturday, with the first game against Murray State less than a month away. As Missouri attempts to build momentum from its Independence Bowl victory over South Carolina - only its second bowl win in 24 years - the team is faced with finding a new leader to replace departed quarterback Brad Smith.
Sophomore Chase Daniel is the presumed successor, although Coach Gary Pinkel has repeatedly said the competition between Daniel and senior Brandon Coleman remains open.
Whoever winds up behind center, the 2006 team is emerging as a group with more take-charge athletes than last year's squad, said junior defensive lineman Lorenzo Williams.
"The group is getting a lot bigger now," he said. "It's not just three or four guys. It's like 10 to 12 guys."
With seven home games this season, Missouri had sold 24,225 season tickets and 19,316 single-game tickets through the end of July, team officials said. Those numbers are slightly down from last season.
Rising gas prices have Missouri officials worried that many casual fans won't make the drive to Columbia. As an enticement, the school has reduced tickets in the south end zone for the Sept. 2 game against Murray State to $10 through Aug. 13.
"So much of our fan base comes from Kansas City and St. Louis," said Chad Moller, a team spokesman. "The fuel prices very well could keep people from driving in as much as they have in the past."
Copyright 2018 The Associated Press. All rights reserved. This material may not be published, broadcast, rewritten or redistributed. We strive to uphold our values for every story published.