Like many of her high school classmates this summer, Samantha Sparkes showed up for work with no real experience, without a specific job title and more than a little bit of anxiety.
"I've never really done anything like this before," she recalls thinking.
Then again, neither had anybody else at Microtech Computers Inc., where she and nine other children and associates of staffers found themselves involved in what just might be one of the most high-tech summer camps around.
The teens' summerlong project: Help build two identical supercomputing clusters, each big enough to require seven miles of fiber-optic and Ethernet cables, powerful enough to run 6 trillion calculations per second and fast enough to outpace all but 100 or so of the world's computers.
The $6.5 million worth of hardware - to be transported later this month to two classified locations for the U.S. Department of Energy, where the clusters will be enlisted to tackle Homeland Security tasks - will ingest a combined 340 kilowatt hours of electricity for operations (enough for about 32 typical homes) and another 120 tons of air conditioning power (enough to chill about 24 homes) just to keep cool.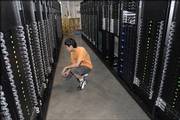 Not bad for an 18-year-old Lawrence High School senior, who doesn't even bother telling her friends about the project she has been working on for $8 an hour, 40 hours a week.
"They'd be like, 'Yeah, right,' " Sparkes said last week, fastening a black metal rack. "Most computers just lock up and die on me. This is the first time I've ever done anything like this.
"It's better than baby-sitting."
The folks at Microtech, 4921 Legends Drive, still can't believe their good fortune.
The student employees, working in what Microtech managers affectionately referred to as "Summer Technology Camp," spent their days installing motherboards, running wires, erecting cabinets and handling other tasks associated with fulfilling the biggest single assembly project the 20-year-old company had ever taken on.
Lesson plans
Teen employees worked with tutelage and under the responsibility of four managers at Atipa Technologies, Microtech's supercomputing unit:
¢ Qiwu Liu, who supervised and monitored hardware troubleshooting and repairs.
¢ Everett Edwards, who supervised and coordinated assembly processes.
¢ Roger Heflin, who, as lead engineer, oversaw installation and configuration of software.
¢ Edward Cote, who supervised and coordinated installation of cables and placement of equipment on racks.
Company officials say that the managers' youthful charges worked out so well on the Department of Energy project that they're already looking forward to the next big job - whether it's next summer or sooner.
"They've done a better job than some people we've had here before," said Mike Zheng, Microtech president and owner.
It's a compliment that Byron Snowton proudly accepts.
When the 16-year-old returns to Free State High School this month to start his senior year, he'll have newfound confidence. Before joining Microtech for the summer - at the suggestion of his ex-girlfriend's mom, a longtime Microtech employee - the biggest job he'd ever handled was helping pour concrete for a house in Texas.
Future foundation
"When I leave here, I'll know how to build one of these," Snowton said, as 1,300 high-performance Opteron Server processors whirred in a completed cluster behind him. "I feel lucky. That's a lifelong skill I'll have."
Dana Chang, Atipa's vice president, said having such "kids" on the payroll could do more than improve efficiency, ensure quality and build camaraderie for the company. It also could help the area build strength as a high-tech powerhouse on the Plains.
"Lawrence could become the Silicon Valley of the Midwest," Chang said. "We have Austin (Texas) for the south and San Jose (California) for the west, but nothing for the middle west. Lawrence is well qualified to be the next Silicon Valley."
Sales speed up local company
Annual sales are holding steady at between $20 million and $30 million for Microtech Computers Inc., said Mike Zheng, company president. But the business' focus is changing. While the company was founded in 1986 as a maker of personal computers, and at one point did as much as $15 million a year in such business with the state of Kansas alone, the state contract today generates less than $5 million in annual sales, he said. Supercomputers now account for more than half of the company's sales, a share that will be expected to grow as researchers and governments continue to demand faster computing speeds and PCs become more of a commodity, he said.
Copyright 2018 The Lawrence Journal-World. All rights reserved. This material may not be published, broadcast, rewritten or redistributed. We strive to uphold our values for every story published.