Delia, the 4-year-old llama, is trained for public relations.
Saturday afternoon at the Douglas County 4-H Fairgrounds, she wore a little hat, walked under a bar, let an observer pet her, posed for a quick flash photograph and showed off her teeth for a judge - all in a span of a few minutes.
"Sometimes people take them to funeral homes to cheer people up or to visit schools," said Jacob Hetrick, 17, and Delia's handler.
Hetrick lives near Stull, and his family now has nine llamas, he said. During the public relations course, Delia shook her head a few times when he made her wear the hat, but other than that she did well, he said.
"They don't like stuff on top of their heads," Hetrick said. "They are always trying to get it off. If they realize they can't get it off, then they will stop."
Sure, llamas can be a little stubborn, Hetrick said. Other competitors with the Douglas County Llama Project on Saturday had trouble getting their llamas to budge and move around the ring when they needed them to move.
Photo Gallery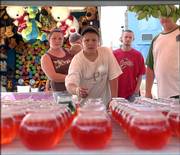 100 years, 100 ways to have fun
But the training also can pay off.
"Once you teach them something, they will remember it for the rest of their life, so you don't have to keep reteaching them," Hetrick said. "They are good guard animals too, for a herd."
Before the public relations test, Delia won first place for her performance around the ring in an obstacle course.
Jennifer Goff, 17, of Baldwin, was showing Roo, a 3-year-old, and Tia, who is 1 year old. She showed llamas at the fair for the second year in a row.
Roo won second place in the obstacle course.
"I think it's going OK," Goff said. "Sometimes, they can get stubborn when they are nervous."
Evan and Ashley Foos also showed their llamas in competitions Saturday inside the fair's judging arena.
The Douglas County Fair wraps up today with a few events, including the awards ceremony at 3 p.m. and the 4-H Livestock Auction, both in the Community Building.
Photo Gallery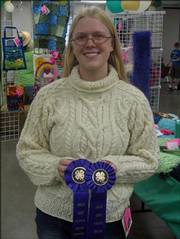 Douglas County Fair Grand Champions
The Grand Champions are the top ribbon winners in their categories at the Douglas County 4-H Fair.
Copyright 2018 The Lawrence Journal-World. All rights reserved. This material may not be published, broadcast, rewritten or redistributed. We strive to uphold our values for every story published.