Kirk McFadden disagrees with the notion that there's no such thing as a bad day fishing.
Fishing in the 17-degrees chill at Kansas' La Cygne Lake wasn't much fun for McFadden at the Bass and Bridges Tournament in March of 1996. Conditions were brutal. Steam froze on McFadden's fishing rod, and ice stuck to the reel, to the point he couldn't even cast. He had to suck the ice off the reel to melt it, just so he could cast.
"The weather had more effect on me than it did on the fish in that extreme-type weather," McFadden said. "It was difficult catching them because your gear didn't work right."
He didn't catch any fish the entire tournament and said the winner caught only two.
McFadden's used to catching more fish - a whole lot more.
Heard of this guy before?
The Lawrence resident is the lone Kansan on the Bassmaster Northern Tour.
McFadden has climbed the ranks quickly. He's ranked No. 43 of 125 fishermen on the tour. This is after a mere two months. Imagine his rank after a full year on tour.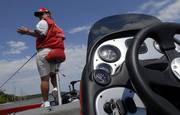 McFadden admitted he had thought about it.
"My ultimate goal is to place in the top five in the overall standings," he said. "Then I move up to the elite. That's as high as you can go."
He has earned $700 from participating in two tournaments.
The 5-foot-7, 185-pound McFadden works as a general manager for New Earth Lawn and Landscape in Lawrence. He said fishing on the tour required an extra 20 hours per week, but his co-workers were supportive of his passion.
McFadden arrived at Clinton Lake the other day and backed up his red Dodge truck, boat attached, to the dock.
You could just tell he was a serious angler: He was color-coordinated.
His truck, boat, hat and jacket were all fire-engine red. He said he received a new boat from Tracker, one of his four sponsors, every year.
As he turned around, you couldn't help but notice "McFadden" embroidered on the back of his jacket.
If you're more of a golf fan, think of it this way: Only the pros get their names on the bag.
It didn't take long to get from the dock to the other side of the lake, especially since McFadden drove. Outside the no-wake zone, McFadden had the Tracker blazing through the lake at 62 miles per hour.
"We could have gone a little faster," McFadden joked.
McFadden, 50, met Ricky Siglar, former Kansas City Chiefs offensive lineman, at a fishing tournament that the Kansas City Ambassadors held in 2004. The two became fishing buddies after the tournament.
"Kirk's just got a passion for people and kids," Siglar, an Overland Park resident, said. "We bring out the best in each other."
They also bring out the competitiveness in each other when they fish. Friendly trash-talking is commonplace.
"Oh, it's nonstop," Siglar, 40, said. "He likes to change the rules now that he's fishing on the professional circuit. It's usually who catches the most or the biggest fish. Now it's got to be a keeper fish."
Siglar said fishing was actually more difficult than playing in the NFL.
"In football, I know who I'm going to line up against," he said. "In fishing, I need to figure out where the fish are and figure out a pattern."
McFadden also said conditioning was an important aspect of fishing, just like it was in other sports.
"You're standing up all day long and you're making up to 1,200 casts a day," McFadden said.
And for the people who don't think fishing should be considered a sport?
"Yeah, well. I can't put that in writing," McFadden said, laughing.
Copyright 2018 The Lawrence Journal-World. All rights reserved. This material may not be published, broadcast, rewritten or redistributed. We strive to uphold our values for every story published.