Memorial Stadium is a special place for a pair of 2005 Kansas University School of Law graduates.
Not only is it where Anne Murray and Mark Emert hung out with friends and family to tailgate and witness the football team's turnaround, but it is where Mark realized he was in love with Anne and where they became engaged.
The two met while attending law school in 2003.
Mark, a 1996 graduate of Sabetha High School, had earned a degree from KU in sports management in 2000. After working in sports management for a while in Overland Park, he decided to attend law school.
Anne, a 1996 graduate of Lawrence High School, attended Dartmouth College on a volleyball scholarship. She graduated in 2000 with a degree in government, then also decided to pursue a law degree.
As students, they were acquainted for more than a year before Mark invited Anne to lunch at Quinton's Bar & Deli in downtown Lawrence, which led to "casual dating" for a few weeks. Both admit they weren't looking for a serious relationship.
Then, "my appendix ruptured," Anne said. "All of a sudden, I am in the hospital."
Her stay at Lawrence Memorial Hospital lasted about 10 days.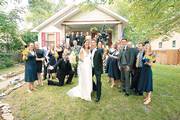 "Mark was so great; he was there by my side every day," Anne said. "It just seemed like our relationship was kind of on a fast track."
Fast, but not too fast. Both wanted to finish law school before becoming engaged.
"The day that I first realized that I was in love with Anne - you know, when it hits you like a cement truck kind of a deal - I was at a football tailgate," Mark said. "I was just playing catch with some friends and someone said, 'Here comes the girls.' I saw her there. It was that kind of feeling where your stomach folds inside-out.
"I was like, 'Ah man, I am in trouble.' That was special for me because I had never felt like that before. So, I had this little ploy to take her back down to the stadium where I first fell in love with her."
Fifteen minutes after Anne finished her last final, Mark was ready to pop the question. He had a bench picked out near Memorial Stadium where he wanted to propose.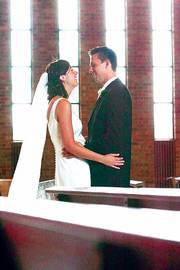 When the time came, about 40 children were having lunch under a nearby tree. But he decided to proceed with the plan.
"So, I've got this whole big deal of what I'm going to say to her and I think I got to about 'Uh, uh, I love you'' and then I fumbled with the ring in my pocket. Finally, I went down on one knee and she said yes' and then we hugged."
Then there was enormous applause from the children.
"It was so cute," Anne said.
Mark, 28, an attorney at Skepnek Fagan Meyer & Davis PA in downtown Lawrence, and Anne, 28, who works for a judge in Topeka, were married at First Presbyterian Church in Lawrence on June 10.
"We had to plan around KU football and KU basketball," Mark said. "I am a big KU fan, and it would be selfish to make our friends go to a wedding during a game."
Now, the newlyweds are looking forward to KU tailgate parties at their Lawrence home.
"I love KU football, what can I say," Mark said.
Copyright 2018 The Lawrence Journal-World. All rights reserved. This material may not be published, broadcast, rewritten or redistributed. We strive to uphold our values for every story published.