The image, in most Kansans' minds, is indelible. John Brown, a maniacal look on his face, stands in a crucifix-like pose, a rifle in one hand and a Bible in the other. Dead soldiers from the North and South lay at his feet.
It's as much a part of the Statehouse as the copper dome.
But before the painting was in the Capitol in Topeka, Brown was angled a little more to the side with a more subdued look on his face. All of the figures were a little boxier.
These are the sorts of details - relived in hundreds of sketches and studies - that help explain the workings of John Steuart Curry, the most famous artist in Kansas history.
"It's the first drafts that can be revealing and interesting - how you get from A to Zed," says Charles Eldredge, a professor of art history at Kansas University. "It's like the first draft of a novel or of a music score - you admire the finished product, but you often don't have a chance to look at the process."
Now, several projects in Kansas are offering behind-the-scenes looks at Curry's methods.
Curry Statehouse murals
Listen to Kate Meyer, curatorial assistant at the Spencer Museum of Art, talk about the upcoming John Steuart Curry exhibit in a virtual gallery tour. See audio slideshow »
KU's Spencer Museum of Art this fall is exhibiting 22 Curry works, many of which offer glimpses of the processes that led to his finished paintings.
Meanwhile, Kansas State University's Marianna Kistler Beach Museum of Art is in the process of cataloguing more than 900 works bequeathed by Curry's widow in 2002. The vast majority of those works are sketches and studies for other works.
"When you really think about it, the way museums collect, it doesn't really give you the complete picture of the artist," says Bill North, senior collections manager at the Beach museum. "We're always looking for things with high aesthetic value. But we don't see the things that are created when the artist was not having his or her best day. We don't collect with an eye of coming to a full understand - worst and all - of an artist's work.
"I think it's good to have the good, the bad and the ugly."
'Repeating themes'
Curry was born in 1897 near Dunavant, now a ghost town in Jefferson County. His boyhood home presently sits in Old Jefferson Town in Oskaloosa, just 20 miles north of Lawrence.
He was among the best-known of the Regionalist-era painters, along with Grant Wood and Thomas Hart Benton.
He typically painted Kansas scenes and themes, though he spent some of his prime years in Connecticut and Wisconsin.
Curry ballet sketches
Listen to Kate Meyer, curatorial assistant at the Spencer Museum of Art, talk about the upcoming John Steuart Curry exhibit in a virtual gallery tour. See audio slideshow »
He's best known for the Statehouse murals, and two different sets of studies - one in oil, the other in crayon - will be on display starting Saturday at the Spencer Museum.
The exhibit, called "John Steuart Curry: Agrarian Allegories," features 22 Curry works.
"The idea of the show is the repeating themes and how Curry works them out," says Kate Meyer, curatorial assistant. "You get to see a lot of his working methods."
The oil studies for the murals were completed in 1937. The crayon sketches were completed around 1938 or 1939.
It's remarkable how much the first drafts resemble the finished product, Meyer says.
Spencer exhibit
What: John Steuart Curry: Agrarian Allegories Where: Spencer Museum of Art, Kansas University When: Saturday through Nov. 4. The museum is open from 10 a.m.-5 p.m. Tuesday, Wednesday, Friday and Saturday; 10 am.-9 p.m. Thursday; and noon to 5 p.m. Sunday. It is closed on Monday.
"The figures are more defined" in the finished murals, Meyer says. "But when comparing them, I'd rather focus not on what's different, but how similar they are."
Midwest story
One difference in the end product is that the entire project wasn't finished. Included in the Spencer Museum exhibit is a rarely exhibited sketch of the murals Curry planned for the rotunda of the Capitol, again showing farm scenes. Because of controversy surround the works, the rotunda murals were never completed, and Curry considered the project a failure.
The exhibit also includes sketches of a set and costumes the artist designed for a 1941 ballet that was based on Carl Sandburg's poem "Prairie." The costumes weren't used in the original ballet, though they were resurrected when composer Eugene Friesen wrote a new work for symphony, chorus and dancers in 2001.
Like many of Curry's paintings, the ballet studies deal with farm themes. But these were literal, almost comical, representations of the prairie.
All of the works help Curry explain his home region, Meyer says.
Photo Gallery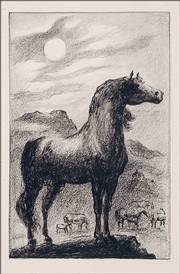 John Steuart Curry
"To me, he's creating a narrative of what the Midwest and Plains mean to him," she says.
Preserving history
Soon, art historians and Curry fans will be able to see more of the behind-the-scenes works by the artists.
K-State officials are working to sort through and preserve the collection bequeathed by Curry's widow.
"There's a lot to learn from it, but there's also a lot to do to be able to learn from it," says Suzanne Hale, the Beach Museum's registrar.
Using grand money from the Institute of Museum and Library Services, the museum hired a conservator to preliminarily identify the objects in the collection and identify ways to keep them from deteriorating.
Most of the works are on paper, and some are nothing more than a few graphite strokes.
"Most were taken out of his studio, and sometimes there were stacks of drawings," says North, the collections manager. "Their condition is a function of how they were used in the studio. That material is not terribly precious to a working artist."
But it might be valuable to those studying Curry's life and art.
Hale says little details stand out in the collection. For instance, Curry started one series of figure studies with cheap paper but, midway through, started using high-quality paper. Or he often used both sides of a piece of paper.
'Vulnerable' art
Hale says one work that stands out for her is an illustration for a skeletal figure with a hat, standing with a shovel, believed to be a study for a book by Walt Whitman that Curry illustrated. Hale says she thinks the figure is a bit of a self-portrait, whether Curry intended it or not.
Other works in the wide-ranging collection include sketches from his time spent traveling with the circus and his time in Cuba. It also includes portraits, something Curry rarely painted.
"A lot we've gone through - and this is my candid opinion - didn't appeal to me in certain ways," Hale says. "It's not that they aren't of interest or value. But him leaving the material on the studio floor or in stacks of things, they were things he'd either get back to later or didn't succeed at. Those aren't the masterpieces, but it's good to know the vulnerable side of the artist, too."
The Beach Museum currently is undergoing massive renovations, so the Curry project is on hold. North says the next step is to date and identify the materials so they can be available to researchers and eventually displayed.
He thinks thematic exhibits could start as early as next year.
"There are people who are very interested in the material, and who want access to it," North says. "It's a collection that will prove to be a wonderful tool for studying Curry's life and art and his working methods. I imagine there are, among all these hundreds of sheets of paper, keys to puzzles that we're not even aware of the puzzles yet."
Copyright 2018 The Lawrence Journal-World. All rights reserved. This material may not be published, broadcast, rewritten or redistributed. We strive to uphold our values for every story published.