Sweet Grass County, Mont. — Speedometer nudging 90 on a freshly paved two-lane, my rental Ford swooped past swells of deep-green prairie grass. To the west a searing afternoon sun was laying into the Crazy Mountains, still pimpled with snow despite triple-digit temperatures down on the plain.
It had been a five-hour drive, angling southwest across Montana from the dwindling town of Malta to the vital city of Bozeman. I crossed the Missouri River, not far from where a member of the Lewis and Clark expedition wrote that there were so many beasts, they had to be clubbed out of a traveler's way.
They can still be a problem.
I ran over a snake (a big rattler; I was afraid to stop for a postmortem), narrowly missed a kamikaze antelope, swerved around the bloated carcass of a mule deer and came to a screeching stop for six cows on a mid-morning saunter.
Montana still amazes - with beasts, with distance, with its famously big crystalline sky that doesn't get all soupy in high summer heat. Yet, as a morning in Malta, in the plains of northeast Montana, and an evening in Bozeman, in the mountainous southwest, clearly show, this iconic Western place has been reformulated: cut into separate and unequal parts, cleaved along a fault line of wealth and bankruptcy, growth and decline, ebullient newcomers and aging descendants of the homesteaders.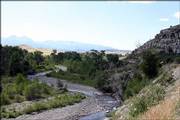 The grown children of these ranchers live, in most cases, somewhere else. A quarter of the people in surrounding Phillips County have disappeared since 1960.
There is no mystery about the reasons for this exodus: farm mechanization and farm consolidation, low birth rates and stagnant crop prices, drought and heat, blizzards and boredom. And no one has come up with a way to stop farm kids from fleeing.
All of which leads me to my supper in the so-not-dying city of Bozeman, the heart of Gallatin County. It is the fastest-growing county in the state, a place where residents - compared with the average Montanan - are richer, better-educated, more likely to have been born in another state and much more likely to be living off investment money.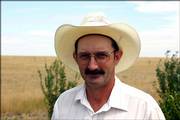 The New West culture that supports all this is also no mystery.
For a decade or two, college-educated people who want to live in decent towns, fish in clean rivers and hike in high mountains have been descending on western Montana. Unlike the farmers, ranchers and miners who have traditionally run the state, they tend to be green and lean Democrat - and they are changing the state's politics.
As with decline around Malta, no one has come up with a sure-fire scheme to control growth around Bozeman.
Still, once you get out of any Montana town and pick up some speed on a highway, the big sky, limitless space and staggering absence of traffic have a way of soothing a traveler. Emptiness out here has a kind of holiness. It blows away worries about sprawl in the west or decline in the east and seduces a driver, even in a rental car, into thinking of himself as a rugged individualist.
My long Ford swooped through Sweet Grass County at nearly 90. Fences along both sides of the highway kept cows, mule deer and kamikaze antelope at bay. In my car, I could handle the snakes.
Copyright 2018 The Lawrence Journal-World. All rights reserved. This material may not be published, broadcast, rewritten or redistributed. We strive to uphold our values for every story published.