Manhattan — There is constant bustle at Kansas State. Scaffolding surrounds the Vanier Football Complex as workers quickly hurry to finish a massive renovation to the football program's headquarters. Trucks and construction material are scattered everywhere.
It's a telling scene for new coach Ron Prince, who eight months to the day after he was hired as the successor to Bill Snyder is on the eve of his first fall practice.
After two straight losing seasons and with a new coaching staff in place, there's plenty of work to be done.
"Tomorrow will be a really big day for us," he said Friday. "I'm really looking to see what each of these players can do."
Prince, 36, said the opening of fall practice represents the next step in a meticulous schedule he set forth upon his arrival in December.
Winter workouts gave way to spring football, and grueling summer sessions have prepared players for physical tests this morning. The premise, Prince said, is simple: If you don't pass, you don't play.
And like the schedule, Prince isn't coy about what he expects to see from practice.
"I want the practice to be fast," he said. "I want the practice to be demanding of the players. And I want to really stretch the player to see what he's retained and how quickly he's learned. That's what I'm looking for in practice."
Linebacker Maurice Mack, one of a handful of seniors who remember when Kansas State was among the nation's elite, said he has butterflies for the first time in ages. The nerves have come back, prompted by the unknown.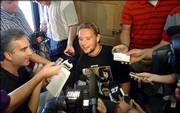 "It's a whole new start," he said, cracking and popping his knuckles. "Everybody's on edge right now. Everybody's nervous. But I think everybody's ready to get it going."
That includes senior quarterback Dylan Meier, who sat out all of last season while rehabbing a shoulder injury. He begins a three-man race for the starting job in Kansas State's season-opener on Sept. 2 against Illinois State, a race Prince maintains is wide open.
"It's a time for everyone to get together chemistry-wise," said Meier, who will battle sophomore Allan Evridge and freshman Josh Freeman for the starting nod. "But for any new scheme, new offense, new team, new coach coming in, it weighs that much greater. It's going to be a very, very important time for our offense, for our whole team, to come together."
Kansas State returns 17 starters, the most of any team in the Big 12, but quarterback isn't the only position up for grabs during fall practices.
Running back is already a question mark. Sophomore Parrish Fisher is working his way back from injury, junior college transfer James Johnson is still finishing class work, and Thomas Clayton - the Wildcats' leading rusher a year ago - is suspended for the season opener after an altercation with a parking services employee.
The entire defensive line is in flux, and while most of the offensive line returns, it is still young and unsettled.
"I want to be fair to these young people and give them a legitimate chance to compete," Prince said. "When there's a competitive tension on your team, and everybody knows they have a chance to make the roster, to compete for playing time, I think it makes you a better team.
Offensive coordinator James Franklin said his players aren't alone in not knowing what to expect, though. The entire coaching staff is feeling its way through fall practices.
Franklin and defensive coordinator Raheem Morris were in the NFL last season, and only a handful of others were with Division I programs. Prince was a relatively unknown offensive coordinator at Virginia, and the only holdover from Snyder's staff is defensive coordinator Mo Latimore.
For Franklin, fall practices finally means players have a chance to play - and coaches have a chance to coach.
"From the day we got here, Coach has had us running in a thousand different directions," he said. "But when it comes down to it, we want to be out on the field. We love the practice."
Copyright 2018 The Associated Press. All rights reserved. This material may not be published, broadcast, rewritten or redistributed. We strive to uphold our values for every story published.