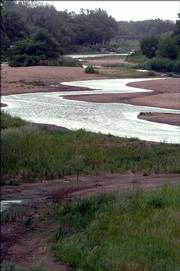 Hutchinson — The worst drought to hit the state in years has reduced the Arkansas River here to a trickle, making it barely ankle-deep, and other rivers around the state haven't been faring much better.
"We have much lower stream flows now than even in the 1930s and 1950s," said Jim Putnam, a hydrologist with the U.S. Geological Survey. "It's summer, so you expect some low flows ... but these are very low flows compared to other Julys on record."
The Arkansas River's flow, which averages 58.3 cubic feet per second in July, was down to 36 cfs Wednesday at Hutchinson's eastern gauge, according to the U.S. Geological Survey.
A Wednesday rainstorm improved conditions Thursday with the river flow measured at 51 cfs. But temperatures were expected to reach near 100 degrees today through Wednesday, which could again hinder river flow.
July's record low broke the July 1991 measurement of 62 cfs at the Hutchinson gauge, according to the Geological Survey. In July 2005, stream flow measured around 400 cfs.
Other rivers across the state face similar situations, Putnam said.
Big Creek near Hays averaged a record low .17 cfs for July. The Saline River at Russell hit a historic low average of .50 for the same month.
Lack of rainfall and low groundwater levels that affect river flow chiefly caused present conditions, Putnam said. And when temperatures reach these levels and dry conditions linger, irrigators pump more water to sustain fall crops.
Some cities, including Salina, which is dependent on the Smoky Hill River, began water conservation measures last month after the Smoky's flow declined to record levels.
Hutchinson's public water supply, taken from the Equus Beds aquifer, hasn't been affected by the drought or the Arkansas River's low flow, said Don Koci, environmental geologist with the city of Hutchinson.
"We're fortunate we haven't seen detrimental effects from the dry conditions here that obviously Russell and Salina have seen," Koci said. Still, dwindling water supplies are noticeable around Reno County.
Copyright 2018 The Associated Press. All rights reserved. This material may not be published, broadcast, rewritten or redistributed. We strive to uphold our values for every story published.