Los Angeles — The film "Quinceanera" was inspired by its 114-year-old star.
Echo Park, founded in 1892, is one of L.A.'s oldest neighborhoods. Before Hollywood was born, this community of 25,000 just north of downtown was the city's filmmaking capital. For decades, it was a mostly Hispanic, working-class neighborhood. In recent years, it's become a trendy enclave and real estate hot spot.
Filmmakers Richard Glatzer and Wash Westmoreland moved from West Hollywood to Echo Park five years ago. Inspired by their neighborhood and their neighbors, the two made "Quinceanera" (the name for a traditional rite of passage for 15-year-old Hispanic girls) to pay tribute to the area's historic architecture and rich cultural heritage, noting the ongoing gentrification that threatens both.
"There are such different realities next door to each other," says Glatzer, 54, who experienced his first quinceanera at his neighbor's house in 2004. "We started talking about a movie about a gentrifying neighborhood. And we thought the quinceanera would be a perfect way to structure it because it's a coming-of-age ceremony and the neighborhood's kind of evolving as well, not necessarily in the most positive way."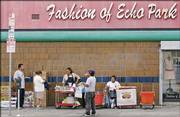 "Quinceanera," which took top honors at the Sundance Film Festival this year, tells the story of a girl ostracized by her family after she becomes pregnant shortly before her 15th birthday. She forms an unlikely alliance with her cousin Carlos, a street tough exiled from his family for being gay, and her great-uncle Tomas, a kindhearted man who spends his days selling champurrado (a Mexican hot-chocolate drink) and tending his elaborate garden.
Glatzer and Westmoreland hoped to tell a universal story that reflects the people and the vibe of this little L.A. community.
"We're the first white couple on this block, we're the first gay couple on this block, but there was no resistance," says Westmoreland, 40. "People were very open and friendly and we got to know our neighbors, so the movie really grew from that sense of wanting to capture Echo Park on film."
Lifelong Echo Park resident Liz Ryan, who lives next door, didn't just open her home to film crews, she inspired one of its characters: a tolerant woman who understands the value of diversity and community.
"We've definitely seen a lot of changes in the area," says Ryan, 31. "Change is a good thing if it brings people like Wash and Richard who have a love of culture. So many people have come here over the generations and added their little bit to Los Angeles, so it becomes this fantastic mix of things."
Copyright 2018 The Associated Press. All rights reserved. This material may not be published, broadcast, rewritten or redistributed. We strive to uphold our values for every story published.