Kansas City, Mo. — Brad Radke left his previous start after three innings with a sore shoulder and a loss.
The Minnesota Twins brought up right-hander Mike Smith from Triple-A Rochester in case Radke could not make the start or had an early exit against the Kansas City Royals on Thursday night.
Radke allowed two runs over eight innings, and Justin Morneau had two hits and three RBIs to lead Minnesota to an 8-2 victory after the Twins built a 7-0 lead after three innings.
"There wasn't any question," Radke said of his starting the game. "It is something I need to fight through here and hopefully I can make it the next couple of months and if we make the playoffs keep going.
"I knew I was going to feel a little better today than my last start. I think I've found the right mix, a little bit of this and a little bit of that. I took it easy on my shoulder after the last start. It seems the more I do the more it irritates it. I just need to stay with some real light stuff and not do too much heavy stuff."
Radke (10-8) gave up four hits, walked one and struck out six. After starting the season 4-6 with a 7.44 earned-run average, Radke had gone 6-2 with a 2.76 ERA in his past 13 starts, including the loss to Detroit on Saturday.
"I need to start pitching now instead of throwing," Radke said. "I need to start hitting my spots a little better because I know I'm not going to be throwing as hard as I did before, which wasn't that hard anyway. When you're out there throwing 84-86 (mph), I need to hit my spots a little better and mix my pitches up."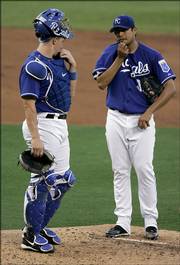 Radke knows the shoulder isn't healed.
"I know I'm going to be hurting the next four days," he said. "As long as I'm feeling better the day I pitch that's fine. I can deal with that. Everybody fights through injuries and stuff. As a pitcher if you have shoulder problems, at times it is not easy. I don't do much throwing between starts if any. It's not easy to do, but I've been around for a while. I'm a command guy. As long as I can command the plate, everything will be fine."
Morneau, who is tied for second in the American League with 91 RBIs, had an RBI single in the first and a two-run single in the second.
"Everybody had good at-bats," Morneau said. "We made him (Royals starter Jorge De La Rosa) work. We were trying to stay patient and make him throw strikes and then look for a pitch we could drive."
De La Rosa (1-1), making his second start after being acquired in a July 25 trade with Milwaukee, retired only four of the 12 hitters he faced. He gave up six runs, five earned, four hits and four walks in 11â3 innings. He threw 27 strikes in 54 pitches before being replaced by Todd Wellemeyer.
"From the first pitch de la Rosa threw, he couldn't find the strike zone," Royals manager Buddy Bell said. "He couldn't find it with his fastball or his secondary pitches."
All four batters De La Rosa walked scored.
"That's what happens when you don't throw strikes," De La Rosa said. "It was all mechanics. I'll work on it."
Copyright 2018 The Associated Press. All rights reserved. This material may not be published, broadcast, rewritten or redistributed. We strive to uphold our values for every story published.