Most people know Burcham Park as the place to watch Fourth of July fireworks or walk their dogs along the river. But on Saturday the locale will transform into an international concert venue.
Around 30 acts will be spread over three stages. They range from major-league headliners Death Cab for Cutie and Keane to local standouts Ghosty and Appleseed Cast.
"We wanted to do something that brought back the independent spirit of Lawrence - the indie rock thing we've had going on here for years," says Jacki Becker, co-organizer of the Bleeding Kansas Arts & Music Festival.
Becker, owner of Eleven Productions, is teaming with fellow Lawrence promoter Josh Hunt to put on the Saturday event. The pair have been involved with concert festivals before at Burcham Park, including Warped, Tattoo the Earth and Brewgrass.
"The geography and topography of it is an advantage," Becker says of the park area, which is flanked by train tracks and the Kansas River. "It's very shaded. There is lots of grass. You can see it when you pull in from I-70 when you're crossing the bridge. It's just tucked away in the neighborhood, but you're only a few blocks from downtown."
She also became enamored with the history of the area when attending a Juneteenth celebration in 2004. Becker took the underground railroad bus ride and was informed that slaves escaping north had actually crossed the river at Burcham Park en route to freedom.
She chose the name Bleeding Kansas as a reference to the years of 1854-1861 in which "popular sovereignty" allowed territories to decide by public vote whether their state would be free . This led to a particularly turbulent era in the region's history. Becker is hoping the spirit of activism and community integrity also will be a key component of the festival.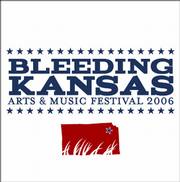 "We can't forget our past and what Kansas was," she says.
"We may not have evolution, we may not be able to teach sex education in schools, and we may have a preacher who protests funerals, but we also have some incredible artistic individuals who live in this community."
While Lawrence's music scene is comparatively diverse, few can argue that the town caters most to styles that fall under the independent rock umbrella.
"Lawrence has a long history with local music, first and foremost, but also with the touring acts that come to town. There's always been a major commitment to the indie or underground styles of music. That's been happening for decades. With Bleeding Kansas, we're aiming for that audience," Becker explains.
That's not to say that the event is trying to outdo the Wakarusa Music & Camping Festival, or to imply that the rival gathering is aimed more at the jam band-loving crowd.
"I think both festivals can share the town," Becker says. "There are lots of hippies and indie rockers to go around."
Bleeding Kansas Festival Lineup
Main Stage 2 p.m.-2:30 p.m. - Aberdeen City 2:45 p.m.-3:15 p.m. - Lake Trout 3:30 p.m.-4 p.m. - Boy Kill Boy 4:15 p.m.-4:45 p.m. - Murder By Death 5:15 p.m.-6 p.m. - Mates of State 6:30 p.m.-7:30 p.m. - Broken Social Scene 8 p.m.-9 p.m. - Keane 9:30 p.m.-11 p.m. - Death Cab For Cutie Ad Astra Stage 2:15 p.m.-2:45 p.m. - Ad Astra Per Aspera 3 p.m.-3:30 p.m. - Fourth of July 3:45 p.m.-4:15 p.m. - Conner 4:30 p.m.-5 p.m. - Langhorne Slim 5:15 p.m.-5:45 p.m. - Flosstradamus 5:55 p.m.-6:25 p.m. - Walter Meego 6:30 p.m.-6:50 p.m. - Powerful Seahorse 7:05 p.m.-7:50 p.m. - Chromeo 8:05 p.m.-8:45 p.m. - The Black Angels 9:05 p.m.-10 p.m. - The Secret Machines 10:10 p.m.-11 p.m. - The Juan Mac Clean KJHK Local Stage 1:45 p.m.-2:15 p.m. - The Terrordactyls 2:30 p.m.-3 p.m. - Boo and Boo Too 3:15 p.m.-3:45 p.m. - Kelpie 4 p.m.-4:30 p.m. - Davan 4:45 p.m.-5:15 p.m. - Approach 5:30 p.m.-6 p.m. - The Armory 6:15-6:45 p.m. - Dead Girls Ruin Everything 7 p.m.-7:30 p.m. - Ghosty 7:45 p.m.-8:15 p.m. - Appleseed Cast
Copyright 2018 The Lawrence Journal-World. All rights reserved. This material may not be published, broadcast, rewritten or redistributed. We strive to uphold our values for every story published.