Jerusalem — A massive wave of guerrilla rockets pounded northern Israel in a matter of minutes Thursday, killing eight people hours before Hezbollah's leader offered to stop the attacks if Israel ends its airstrikes. Israel hit back early today with airstrikes in southern Beirut.
Israel lost four soldiers in fighting Thursday, making it the deadliest day yet for the Jewish state in its two-front war.
The Israeli military said the targets of the latest attacks in the southern Beirut Shiite neighborhood of Danieh were Hezbollah facilities and a Hamas office. Local media said Israel launched 24 bombing runs in an hour.
Israeli artillery shells earlier exploded in the hills of southern Lebanon, sometimes as many as 15 per minute. The military said its aircraft were hitting Hezbollah targets all over the country.
In the second front of its offensive against Islamic militants, Israel sent dozens of tanks into the Gaza Strip as aircraft fired at clusters of militants. The heavy clashes in Gaza killed eight Palestinians, including an 8-year-old boy.
Despite Hezbollah leader Sheik Hassan Nasrallah's offer and continuing diplomatic efforts to broker a cease-fire, the Israeli army prepared to push up to Lebanon's Litani River as part of its campaign to force the Shiite guerrillas away from the border and make room for a planned international force to patrol the area.
In the 23rd day of Israel's punishing onslaught both on the ground and from the air, Hezbollah has shown surprising strength and has found its support in Lebanon - and among the larger Arab world - vastly bolstered.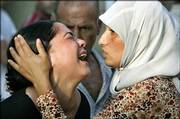 With calls for a cease-fire growing more intense, the prospect that Hezbollah would emerge damaged but far from destroyed by the fighting appeared likely.
Jordan's King Abdullah II warned that the fighting was causing a backlash against moderate Arab leaders and was strengthening the very radicals it was intended to destroy. "The Arab people see Hezbollah as a hero because it's fighting Israel's aggression," he said.
The fighting in Gaza, which began June 25 after Hamas-linked militants captured an Israeli soldier in a cross-border raid, has killed a total of 175 Palestinians, the U.N. reported Thursday, adding that it was concerned that "with international attention focusing on Lebanon, the tragedy in Gaza is being forgotten."
The offensive in Lebanon began after another cross-border raid by militants, in this case Hezbollah guerrillas, captured two Israeli soldiers. More than three weeks into the fighting, six Israeli brigades - or roughly 10,000 troops - were locked in battle with hundreds of Hezbollah guerrillas in south Lebanon.
Israel said three of its soldiers were killed when an anti-tank rocket hit their tank, seriously damaging the vehicle, and a fourth during fighting in the southern Lebanese town of Taibeh.
Since the fighting started, 68 Israelis have been killed, 41 soldiers and 27 civilians. More than 300,000 Israelis have fled their homes in the north, Israeli officials said.
Despite Israel's efforts to crush Hezbollah, the guerrillas launched at least 200 rockets into northern Israel on Thursday.
At least 100 of them rained down within a half-hour period Thursday afternoon, setting cars on fire, sending Israelis fleeing into shelters and killing eight people. The barrage, which came a day after the guerrillas fired more than 230 rockets into Israel, underscored Hezbollah's continued ability to carry out unrelenting strikes.
Copyright 2018 The Associated Press. All rights reserved. This material may not be published, broadcast, rewritten or redistributed. We strive to uphold our values for every story published.