Virginia Beach, Va. — Edward Landry came to this resort city to try to beat the heat. Instead, it was so hot he couldn't even wiggle his toes in the sand.
Landry, of Amarillo, Texas, joined hundreds of other vacationers lounging beneath giant umbrellas Thursday to escape a searing heat wave that finally showed signs of breaking after tormenting the East and Midwest for nearly a week.
"It's tolerable as long as you're around some water and the breeze is blowing somewhat and you can get wet," said Landry, 39, drinking bottled beer as his wife rubbed sunscreen on his back.
The heat wave left behind scattered power outages and at least 25 deaths. More than a dozen states, from Georgia to Connecticut, were under heat warnings as temperatures rose into the 90s or higher. Virginia Beach reached a high of 99 degrees, but the humidity made it feel like 111.
The temperature climbed to record levels in several cities, including 97 in Bridgeport, Conn.; 98 in Islip, N.Y.; and 100 in Newark, N.J., and Baltimore, according to the National Weather Service.
Some relief rolled in after nightfall, as thunderstorms were reported in parts of the East. Temperatures in Chicago and Detroit dropped on Thursday.
Authorities have confirmed that heat played a role in at least 25 deaths in 10 states and the District of Columbia since the scorching temperatures set in on Sunday.
Heat was suspected in at least eight other deaths.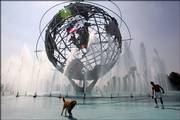 In Illinois, at least six heat-related deaths were confirmed this week in Cook County, and police believe another six deaths on Wednesday could be heat-related.
But the relatively few deaths in Chicago offered evidence that the city had learned from its experience in 1995, when a similar heat wave killed more than 700 people in four days, said Eric Klinenberg, who wrote "Heat Wave: A Social Autopsy of Disaster in Chicago," after the 1995 heat wave.
"I would say Chicago has become a national leader for heat emergency planning," said Klinenberg, a New York University sociologist. He said there were electronic billboards on major roads, public service announcements throughout the day on local media and the city checked on thousands of vulnerable residents and provided transportation to cooling centers.
But Klinenberg said the heat wave that earlier left more than 160 people dead in California is evidence that many other communities are not prepared to do what it takes to protect residents.
"Most cities only take heat waves seriously when they are experiencing their own disaster first hand and usually the responsiveness comes too late," he said.
New York City reported its first heat-related death of the year, an unidentified man whose body was found in Brooklyn. Other deaths were under investigation.
In New Jersey, authorities in Newark confirmed that two elderly people found dead in their home Thursday had died because of the hot weather. Relatives told a television station that both had mental problems and kept their windows closed out of fear of intruders. The home had a fan, but no air conditioning.
Copyright 2018 The Associated Press. All rights reserved. This material may not be published, broadcast, rewritten or redistributed. We strive to uphold our values for every story published.