When it comes to poultry, Richard Marteney is no dumb cluck.
"I was hatched in a hatchery," Marteney said, smoothing his white beard.
Marteney was judging 4-H chicken entries Wednesday at the Douglas County Fair.
"I've been in feathers all my life," he said.
The Wamego man explained that his father ran the Moundridge turkey hatchery, the biggest of its kind in Kansas, until 1963.
Then his father moved to Reimer's Inc. in Buhler, which was, through the 1970s, the state's largest pullet and egg production facility.
Marteney, who has a degree in poultry science from Kansas State University, says he isn't in the business himself.
"I just do this as a sideline right now," he said. "I love it."
Audio Slideshow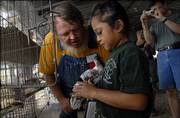 Wednesday at the fair
He spent most of Wednesday judging the dozens of chickens, turkeys and ducks entered at the fair.
"There's 150 birds in here, just chickens," said Charles Garzillo, superintendent of the fair's poultry show.
Garzillo, the poultry leader for the Clinton Eagles 4-H Club, said the exhibits included about 30 different varieties of standard-bred chickens.
Garzillo has three daughters: Charlie, 16; Mary, 14; and Kasey, 10, who all had entries in the poultry show.
"It's been a lot of fun," said Charlie Garzillo, a junior at Lawrence High School, who had five birds in the show.
One of her sisters, Kasey, had put on a white coat, getting ready for her time before the judge.
Audio Slideshow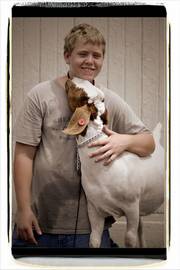 Faces at the fair
"I like to show them and get ribbons," Kasey said.
Bryson Hewins, 12, a Tonganoxie Junior High School student, said he had seven chickens, seven turkeys and eight ducks in the show.
Hewins said he liked watching the birds and how they react to one another.
"The only backfire to it is doing the chores - feeding them and cleaning them," he said.
Addison Jones, 12, Lecompton, brought in six ducks for the show.
"I like telling the judge about the birds," he said.
He had a quick response when asked what he liked best about his ducks.
"Their eggs," he said. "They taste really good."
Photo Gallery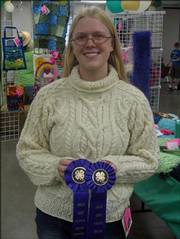 Douglas County Fair Grand Champions
The Grand Champions are the top ribbon winners in their categories at the Douglas County 4-H Fair.
Copyright 2018 The Lawrence Journal-World. All rights reserved. This material may not be published, broadcast, rewritten or redistributed. We strive to uphold our values for every story published.