Another serious wreck Tuesday at Baldwin Junction left nearby residents and workers frustrated by the lack of progress toward making the notoriously dangerous intersection safer.
"This is the second helicopter (ambulance) in two weeks," said J.T. Schwalm, who works at nearby Hansen's Used Cars. "They have to do something."
The wreck occurred about noon Tuesday, when 84-year-old Charlene E. Pohl, Baldwin, pulled into the intersection of U.S. highways 56 and 59 after failing to completely stop at the westbound U.S. 56 stop sign, according to a Kansas Highway Patrol report and officers on the scene.
A semitrailer, driving north on U.S. 59 through the intersection, struck Pohl's Buick sedan, sending it twisting into a nearby ditch. The truck owned by Penny's Concrete Inc. was driven by Justin Huddleston, 28, of Baldwin. He was not injured.Early reports from witnesses described Pohl's condition as grave. She was taken to St. Luke's Hospital in Kansas City, Mo. A spokesperson for the hospital said she was no longer there Tuesday night.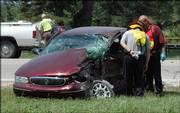 Weeks ago, the Kansas Department of Transportation promised to create a four-way stop at the intersection and add rumble strips to U.S. 59 after residents and officials raised concerns about conditions. Vehicles on U.S. 59 currently do not stop at the intersection.
The intersection has been the site of several wrecks during the past few years.
Between 2002 and 2005, 36 accidents occurred at the junction. A majority of those incidents - including Tuesday's wreck and an April 29 accident that left two Spring Hill teens dead - involved U.S. 56 drivers pulling in front of U.S. 59 traffic traveling at high speeds, officials said at the time.
On July 24, a man on a motorcycle lost control near the intersection. He was evacuated by helicopter but survived the accident.
In mid-July, state officials said work to change the intersection would begin in late July or early August.
Baldwin City Administrator Jeff Dingman said that he hadn't heard from the state since it promised the work.
"They told us those things were going up," Dingman said.
Intersection of U.S. 59-56
Stan Whitley, an information specialist with KDOT, said the new stop signs would be in place once they arrive from the manufacturer, Kansas Correctional Industries.
"When the signs do come, we'll get those up. Within the next couple of weeks we'll get those installed out there," Whitley said.
But Lt. Keith Hudson from the Kansas Highway Patrol said he thought the intersection was OK as is.
"I don't think it's an unsafe intersection," Hudson said. "At this wreck, we had the proper equipment in place."
More about the intersection
Copyright 2018 The Lawrence Journal-World. All rights reserved. This material may not be published, broadcast, rewritten or redistributed. We strive to uphold our values for every story published.