Description: Sorrel is the name for a group of plants in the buckwheat family known for pleasantly acidic leaves. They are shaped like elongated spinach, ranging in color from pale to dark green.
Purchasing: Fresh sorrel is available year-round, with peak season in the spring. Choose sorrel with whole, bright green leaves, and avoid woody-looking stems or yellow or wilted leaves. Some stores carry cooked sorrel in jars or cans, but sorrel is not sold in dried form.
Uses: Can be used to curdle milk when making cheese; in salads; in potato and leek soup or in omelets. Also used with chicken, goose, lamb, pork and other dishes.
Sorrel soup
1/4 cup unsalted butter
2 cups chopped yellow onions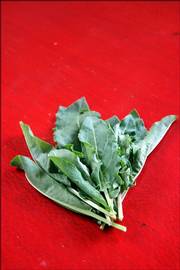 1 cup chopped celery
1/2 teaspoon salt
1/4 teaspoon cayenne
1 to 2 bay leaves
2 tablespoons chopped garlic
8 cups chicken broth
2 large potatoes, peeled and diced
1/2 cup heavy cream
2 to 3 pounds sorrel leaves, cleaned
Melt the butter in a large, heavy pot or Dutch oven over medium-high heat. Add the onions, celery, salt and cayenne. Cook, stirring for 5 to 6 minutes. Add the bay leaves and garlic. Cook for 2 minutes. Add the broth and potatoes and bring to a boil. Reduce the heat to medium-low and simmer uncovered until the potatoes are tender, about 30 minutes. Add the sorrel leaves and cook for another 10 to 15 minutes.
Remove and discard the bay leaves and, with a hand-held immersion blender (or food processor or blender in batches) process until smooth. Slowly add the cream, then serve hot.
Source: www.emerils.com
Copyright 2018 The Lawrence Journal-World. All rights reserved. This material may not be published, broadcast, rewritten or redistributed. We strive to uphold our values for every story published.