Jeremy Shockey expects rough treatment from opponents. He isn't looking for it from teammates, particularly, in training camp.
The New York Giants tight end missed Tuesday's practice in Albany, N.Y., because of post-concussion headaches. The three-time Pro Bowler suffered the mild concussion the previous night when he took a shot from safety Will Demps.
Demps downplayed the collision Tuesday, saying both players were going for the pass thrown by Eli Manning and that there was contact. Replays showed Demps' elbow hitting Shockey's facemask, sending the receiver hard to the ground, where he lay for about a minute.
When he got up, Shockey pointed angrily to Demps, who signed with New York in the offseason after four seasons in Baltimore.
"I was going for the ball and the outcome, you guys saw it," Demps said. "We met at the same time. If it was one of those ones where I really wanted to hit him, I could, but why would I want to do that?"
Shockey was not available for comment on Tuesday. But the other Giants safety, Gibril Wilson, said Demps did not intend to hurt his teammate.
"Will made a great play, and Shockey didn't appreciate it," Wilson said. "He did not like it at all. But it is what it is.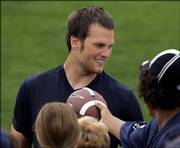 "He's so intense all the time. He wants the ball all the time. He wants to make us look bad, and we want to make him look bad. So he was kind of heated about that."
Also sidelined Tuesday were wide receiver David Patten of Washington and tight end Erron Kinney of Tennessee.
Patten has missed the first two days of training camp while hospitalized because of a viral infection. He arrived for camp feeling sick, and he checked into the hospital Monday, when camp opened.
"He's in probably until Thursday, then it will take him a few more days to recover, so we'll just take it as it comes when he gets out," trainer Bubba Tyer said. "We'll give him plenty of time to get his strength back."
Patten had strong headaches and a fever and was diagnosed with viral meningitis, an inflammation of the lining of the brain.
Kinney will miss two weeks after having arthroscopic surgery on his right knee. He was hurt Saturday morning after running a route during a team drill.
This is the third time since Dec. 7 that doctors have worked on the right knee of the six-year veteran. Kinney made 55 catches for the Titans last season.
Patriots
Patriots QB Tom Brady returned to the field after missing three straight practices, but the team didn't say why the quarterback had been absent. Brady participated in all four practices on Friday and Saturday, the first two days of camp, before sitting out Sunday's single session and both on Monday.
Falcons
Michael Vick left practice with a tweaked hamstring Tuesday night, but coach Jim Mora doesn't expect the three-time Pro Bowl quarterback to miss more than two days.
Vick needed no assistance as he walked off the field after pulling up during a team drill. On his way to the locker room, Vick indicated his right leg was a little sore, but he insisted, "It's no big deal."
Earlier in practice, Pro Bowl cornerback DeAngelo Hall left the field with a slight hamstring injury, but he later returned to watch the rest of the workout. Hall might practice Wednesday.
Saints
With sparkling gold-rimmed shoes and gold-tipped cleats, Reggie Bush made his training-camp debut in Jackson, Miss.
The bleachers swelled with spectators - many wearing No. 25 jerseys or T-shirts - despite a temperature of 95 degrees. The small screens on fans' digital cameras focused on him, as did the eyes of seemingly everyone. His quick cut and stutter-step move that shot him free of a crowd of pursuing defenders drew a collective, "ooh," from the crowd.
"I embrace it," Bush said. "I'm here to win games. I'm not going to be satisfied until I win the Super Bowl. ... There's no guarantee it's going to happen, but I'm definitely going to work my butt off to try to get to that point."
Panthers
All-Pro receiver Steve Smith of Carolina did some light agility drills and caught a few passes while standing, the first time he's been on the field since straining his left hamstring on Saturday. The Panthers have given no timetable for his return.
Bills
Fullback Alan Ricard signed with the Bills, who are trying to bolster a running attack led by Willis McGahee.
Ricard, a five-year veteran, appeared in only two games with Baltimore last season before being sidelined by a chronic calf injury. He is to compete with returning starter Daimon Shelton for playing time. Ricard played a key role for the Ravens in 2003 as a lead blocker for Jamal Lewis, who led the league with 2,066 yards rushing.
49ers
The 49ers released cornerback Bruce Thornton, who started 11 games last season.
Thornton, a waiver-wire pickup from Dallas last September, unexpectedly won a starting job in San Francisco, making two interceptions and 40 tackles. But the 49ers made moves to improve their secondary this season.
Thornton is the second 2005 starter in the secondary to be released during training camp. Ben Emanuel, who started seven games at safety, was waived Sunday when San Francisco signed Mark Roman.
Copyright 2018 The Associated Press. All rights reserved. This material may not be published, broadcast, rewritten or redistributed. We strive to uphold our values for every story published.