Kansas City, Mo. — The crowd of 11,609 at Kauffman Stadium on Tuesday night included a personal cheering section for Chicago White Sox third baseman Joe Crede.
Crede is from Westphalia, Mo., about 175 miles east of Kansas City, and many of the hometown folks show up when the White Sox play the Royals.
He certainly gave them a thrill.
Crede went 4-for-5 with a homer and singled in the go-ahead run in a three-run 10th inning Tuesday night, sending Chicago to a 7-5 victory.
Sandy Alomar also drove in two runs and Crede scored three times for the White Sox, who got a solid start from struggling starter Mark Buehrle.
Crede is hitting .381 with four home runs and 13 RBIs against the Royals this season.
"There's a few people that came up from my hometown. It's always fun to play in front of them and to have a lot of fans. It's good to see family and friends supporting you from back home," he said. "I don't know what it is, whether it is family or friends. I like the hitting background here. I see better here than most ballparks where you always have the scoreboard or something else out in center field. If I knew what it was, I'd take it to every ballpark."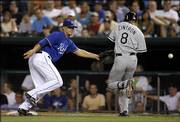 Reggie Sanders and Angel Berroa homered for Kansas City.
Scott Podsednik led off the 10th with a walk, moved to second on a balk by Ambiorix Burgos (2-4) and scored on Crede's single up the middle. Crede came around on Ross Gload's two-out double, and Brian Anderson added an RBI single.
Crede homered leading off the fourth against Odalis Perez to tie the score at 2. Crede, who also homered on Monday, has connected in consecutive games four times this season. He set a career high with his 23rd home run.
"I wouldn't say it means as much as a win means tonight," Crede said. "I put personal goals aside for the team. Last year, I felt like I hit .300 and 30 home runs, winning the World Series. Everything kind of falls at the wayside when you win."
Crede's four-hit game matched his career high and was his third of the season.
Scott Dohmann, obtained in a four-player trade on Monday with Colorado, made his Royals debut, allowing one run and three hits in 1 1/3 innings.
Perez, making his first start for the Royals since being acquired July 25 in a trade with the Los Angeles Dodgers, went four innings and allowed two runs and three hits. He struck out four and walked two. Perez, who threw 69 pitches, was on a pitch limit. He had not thrown more than 41 pitches in five relief appearances for the Dodgers in July, and his previous start was June 28 at Minnesota.
Copyright 2018 The Associated Press. All rights reserved. This material may not be published, broadcast, rewritten or redistributed. We strive to uphold our values for every story published.