Salina — It took the Lawrence Raiders an extra day in their bid to defend their AAA American Legion state title.
But in the end, they were able to hold off Emporia in a 13-6 win at Dean Evans Stadium on Tuesday to claim their fourth consecutive state championship.
And just like the previous years, the championship came under the helm of a new coach - this team being led by 22-year old Troy Wingert.
"Obviously I'm excited to be a part of it - I'm excited that my name kind of headlines this," Wingert said. "But it's all about the kids. The kids have put a lot of time, a lot of heart and a lot of energy into this ... and it's just all about them."
But Wingert's win wasn't easy to come by, as the Raiders weren't able to crack a 3-3 tie until the bottom of the seventh - scoring seven runs, which included a Travis Ice two-run double and a Brett Lisher two-run home run.
"When you've got players coming up and stepping up in big-time situations ... and our fielders making plays when we need them to make plays," Scott Heitshusen said, "that's the key to beating Emporia."
An inning later, Lisher plated Heitshusen and Lorenzo Ricketts on a single, for a game-high four RBIs.
Photo Gallery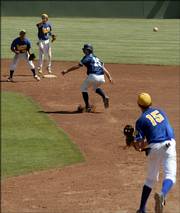 Raiders vs. Emporia
Just two days prior, Lisher participated in the Shrine Bowl football game at Pittsburg State.
"The second day is always the worst, but believe it or not, it wasn't that bad," Lisher said of bouncing back from a football game. "I kind of just let all that stuff go and I got some rest. That game was a lot of fun, but I was happy to get back in the swing of things with baseball."
While the Raiders were without Lisher for half of the tournament, the one player that sparked the club all weekend did it once again in the title game.
Kyle Cross ignited the dangerous Raiders squad with a three-run shot in the fourth to tie the game and begin the shift in momentum - that was obviously still in Emporia's favor from its 15-13 victory against the Raiders on Monday.
"Kyle Cross kind of got us going - actually, he did get us going," Wingert said. "With this ball club, it always takes us a couple of innings or a big hit to get us going. Lucky enough, it was a home run from Kyle Cross to tie it up.
"And as soon as we tied it up, boy, Scott Heitshusen just took control."
Heitshusen did more than just take control of the Raiders; he also took control of Emporia, posting seven of his 13 strikeouts in the final five innings. And despite a three-run eighth inning, he allowed three hits from the fifth inning on - only one came in Emporia's eighth inning.
"It's adrenaline," said a gassed Heitshusen. "In big time situations, I like it. I clear my head and keep my composure together and try to work down in the zone and let my players work behind me."
The Raiders' lone right-handed pitcher went all the way for his team - which he also did on Friday in a seven-inning, 14-4, run-rule victory against Salina. In the process, Heitshusen stranded 12 Emporia base runners - including getting out of two bases-loaded jams.
"This is kind of the reason that we set it up to work Scott Friday night just in the event that we had to throw him on Tuesday," the Raiders' coach said. "It worked out that I look like a genius. ... But he was just overpowering today. He pretty much dominated for most of the game. If our defense makes a couple of plays here and there ... it's kind of a lopsided affair."
For Heitshusen and Lisher - along with a handful of other Free State High seniors - they'll be leaving Lawrence with high school and American Legion state championships from their senior year.
"It's a great feeling," Lisher said. "The first one - with my high school team - was awesome because those are all my best friends. And this one is just the same amount of excitement because it's with both sides of the town. And I have really good friends on both sides, so it was really great to get one state championship for all those guys."
The Raiders extended their season with the win and will travel to Aberdeen, S.D. to play the North Dakota champion in the Central Plains Regional at 12:30 p.m. Aug. 10.
"I'm getting ready to leave here in a couple of weeks - along with half our team," Lisher said. "We're just trying to prepare ourselves now for South Dakota and then to go straight into college. So hopefully we can be pretty successful up in South Dakota."
Copyright 2018 The Lawrence Journal-World. All rights reserved. This material may not be published, broadcast, rewritten or redistributed. We strive to uphold our values for every story published.