Prosecutors say he killed her baby through repeated child abuse while she was at work.
But on Tuesday, Brandi Mae Hendrickson stuck up for her one-time boyfriend, Jay D. Decker, 27, saying she believed his explanations for the series of bruises and injuries the couple's 5-month-old baby suffered last fall in the days leading to her death.
"He's a fairly decent baby sitter," Hendrickson testified.
Asked whether she still loved Decker, Hendrickson said, "I wish not to answer that."
The testimony came on the first day of Decker's first-degree murder trial in Douglas County District Court. He's charged with killing his and Hendrickson's daughter, Risha J. Lafferty, on Oct. 14 at Edgewood Homes, 1600 Haskell Ave.
Prosecutors say Risha had been shaken and had her skull fractured shortly before her death, and that her head and torso were covered with bruises, some of which were days old. Decker surfaced immediately as the suspect after he called 911 and officers found the baby unresponsive inside the home.
But during opening statements of the trial, defense attorney Mark Manna told jurors the evidence wouldn't be able to answer what exact injury caused Risha's death, when the injury was inflicted or who caused it. He said Hendrickson had more control over the baby's routine and more opportunities in the hours leading to Risha's death to cause her injuries.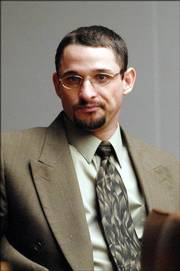 "The evidence will show that more control means more opportunities to cause a fatal injury to Risha," Manna said.
Repeat injuries
Decker and Hendrickson moved to Edgewood in August 2005 with Risha and their 2-year-old daughter, who is now in foster care. Decker got a job at Sonic, but it didn't last long.
With him out of work, Hendrickson found a temporary job in mid-September at Amarr Garage Door Group, working 7:30 a.m. to 3:30 p.m., and left Decker to care for the girls. Shortly thereafter, Risha started to get hurt regularly.
Hendrickson said that when she came home from work, Decker often had stories about injuries the baby had suffered during the day. Once, for example, he said the couple's older daughter had tried to pull the baby through the crib slats. Another time, she said, Decker told her he'd left Risha in the bathtub alone for a moment and had come back to find her turning blue, so he picked her up by the leg and hit her on the cheeks to revive her.
On Oct. 5, she came home and Decker said they needed to go to the hospital. He told her that he had tripped while holding Risha and had fallen into the drywall in a bedroom, leaving a round dent that Assistant Dist. Atty. Amy McGowan said was about the size of a baby's head.
Neglect vs. abuse
Hendrickson said she saw bruises on Risha's head. Only then, Hendrickson testified, did she suspect Decker might not be telling her the truth about the repeat injuries. She said she doubted him for "about 15 seconds," but that the doubt went away.
As they were getting ready to go to the hospital, she testified, Decker took the baby out of the car seat. She said he told her that if they went to the hospital, it would be considered child abuse, but if they didn't it would be considered child neglect.
They didn't go. Asked if Decker prevented her from going to the hospital, she said, "No." Asked why she never took Risha for help, Hendrickson said she didn't have a good answer.
"I was minding my own business that day," she said.
On Oct. 14, Decker called police to Edgewood around 8:20 a.m., not quite an hour after Hendrickson clocked in to work. He initially told officers that he had been sleeping next to Risha on a mattress - about 6 inches off the ground - and that when he picked her up and rolled over, she fell off the mattress, cried for about 20 minutes and stopped breathing.
He later said that she wasn't injured in the fall, that he had given her a bath to calm her after her fall and that she had begun wheezing, officer Scott Chamberlain testified. He said Decker also told him Risha had fallen off the couch two to three days earlier and that he had grabbed her by the throat to catch her.
Defense's side
The opening statement from Decker's attorneys was the first time they had laid out their side of the case. Manna questioned the credibility of Hendrickson, who was charged with felony child endangerment but reached a deal to plead to a misdemeanor in exchange for testimony against Decker.
He suggested she was tired and under stress from caring not only for two children but also for Decker.
In the hours leading to Risha's death, he said, Decker was alone with the baby for a little more than an hour. By contrast, Hendrickson was alone with the baby for five hours, he said.
Also, Hendrickson initially told police the baby had been healthy before she left for work Oct. 14. But she told a supervisor at work that Risha had a fever and had been vomiting, Manna said.
At a preliminary hearing, Hendrickson testified that before she left for work, Risha was moaning and her eyes were fluttering open and closed - a sign, the defense will argue, that she had suffered a "neurological trauma" earlier that morning or the night before.
Hendrickson at times Tuesday gave conflicting or cloudy testimony. For example, while looking at a picture of Risha's body that showed three bruises on the baby's head, she said she didn't know where the bruises came from. Later, on cross-examination, she said the bruises came from Risha bumping her head on the tile floor of their apartment while she was trying to crawl.
"Have you ever hit, struck or shook Risha?" McGowan asked.
"No," Hendrickson said.
The trial continues today and is expected to last all week.
Copyright 2017 The Lawrence Journal-World. All rights reserved. This material may not be published, broadcast, rewritten or redistributed. We strive to uphold our values for every story published.